Born from the idea that a lot of people may not know the figures that feature on their money, we've released an infographic in a joint effort with GoCompare which looks at 'people on Great British Pound (GBP) banknotes', including who they are, why they're significant and more.
The infographic includes short biographical descriptions of the Duke of Wellington, Elizabeth Fry, Charles Darwin, Adam Smith, James Watt, Matthew Boulton, George Stephenson, Florence Nightingale, Charles Dickens, William Shakespeare, Michael Faraday, Sir Edward Elgar, Sir Christopher Wren and Sir John Houblon.
As well as current people included on Great British Pound banknotes, the piece also includes Winston Churchill and Jane Austen. They first featured from 2016 and 2017 respectively, along with earlier faces and UK banknotes that are no longer in circulation.
Ever wonder:
Who is the woman on the 5-pound note?"
or
Who will be on the new banknotes?"
For example, did you know that a portrait of Her Majesty Queen Elizabeth II  has appeared on English money since 1960?
She was the first monarch to feature on a Bank of England note, and also the only living-person to feature on English money.
Here's more:
In July 2019, the Bank of England announced their latest £50 notes would feature WW2 codebreaker, and computer pioneer, Alan Turing: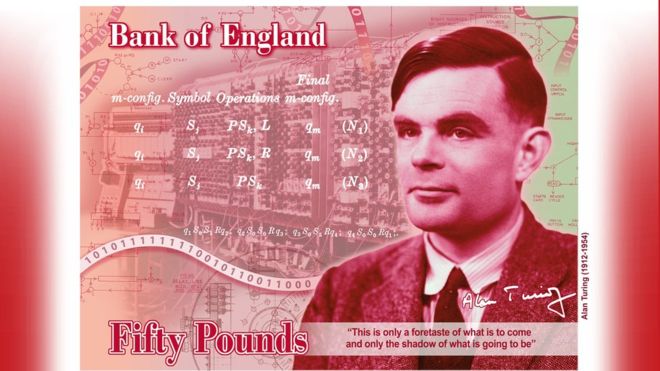 (Image Source: Bank of England)
If you enjoyed this post on Great British Pound (GBP) Notes & People Who've Appeared On Them, retweet and comment, please.