According to the World Bank estimates, the continent requires about US$38 billion per year in infrastructure financing, another US$37 billion per year in maintenance and operations, funding gap estimated at about US$35 billion. These equate about 12% of the whole continent's GDP and put the total annual infrastructure gap at around 100 billion dollars.
McKinsey, a consulting firm, went a bit further by calculating the funding needs of the continent, "which was put at US$150 billion per year until the year 2025, while current financing commitments are at $80bn and will only potentially ramp up to $110-$120bn by 2025 if nothing changes".
The puzzle before experts, economists and consultants to name a few, is how a continent that is the second fastest growing region – a growing young population (about 52 cities with population of one million and above people), a very urban population which is expected by the year 2030 to rise by 50 percent, a continent endowed with natural resources, with huge market opportunity – can bridge this huge infrastructure gap?
According to a report by Africa Finance Corporation (AFC) and The Boston Consulting Group (BCG), "Every dollar of that gap represents a drag on Africa's development and a diminution of its potential. Unless and until it acquires the modern transport systems, power generation capacity, and other basic infrastructure that it needs, it will lag behind not only the developed world but other emerging regions as well."
Bridging this infrastructure gap means increasing access to sanitation and clean water for both individual households and social purposes, access to stable power supply for houses and small businesses through both on and off-grid sources, schools, health centers, ICT centers, good roads that connect the rural areas with the urban areas, modernized rail systems for passengers and freights to name a few.
A quick look at data and figures shows African government spending on infrastructures.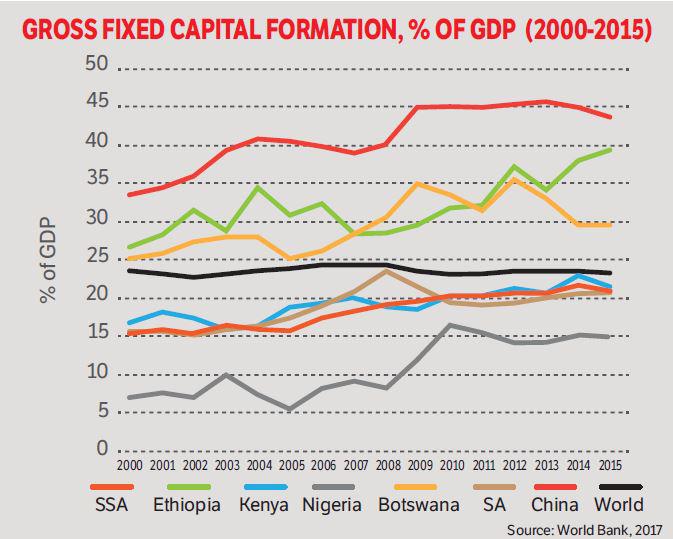 The figure above shows China is leading the pack in the race of infrastructure spending committing average over 35 of its GDP on infrastructure projects. According to an estimate done by McKinsey, "in the period from 2012 to 2015, African governments have provided 30% of the financing (from their budgets), while development finance institutions, multilateral and bilateral banks and development partners have provided 47% of the financing, China-based institutions provided 15% of the financing and the private sector the remaining 9%."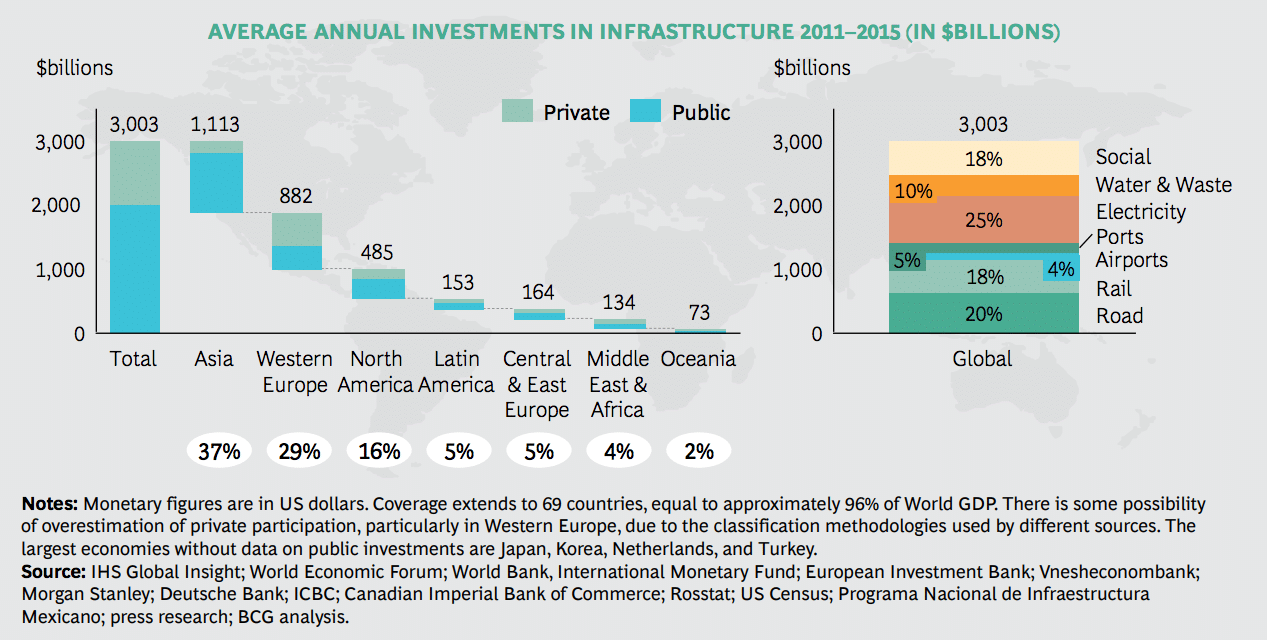 A closer look at investments in infrastructure projects across all regions shows that in all the regions except Western Europe are dominated by private investments. How do we expect other regions especially Africa to follow this trend?
It is important to state that the infrastructure gap in the continent is not due to the lack of will on the part of the African governments, but the lack of capacity. The lack of capacity could also be attributed to limited resources, lack of expertise or even mismanagement of limited resources. Few countries like Rwanda, Ethiopia, Botswana, Mauritius etc. have been able to perform beyond expectations with limited resources.
Ethiopia for example on an average has spent about 33 percent of its GDP on infrastructure projects over the past decade. Surprisingly, the two largest economies in the continent, Nigeria (11.9%) and South Africa (19.9%) have underperformed in the infrastructure spending. A lot of African countries have underperformed partly due to declining revenue as a result of oil prices fall, commodities price fall, political instability, rent seeking and so forth.
A lot of Infrastructure projects in the continent are being financed through savings, drawings from foreign external reserves, borrowings from countries, regional blocs like China, the EU, development finance institutions such as World Bank, AfDB and IMF.
Who Is Financing Africa's Infrastructure?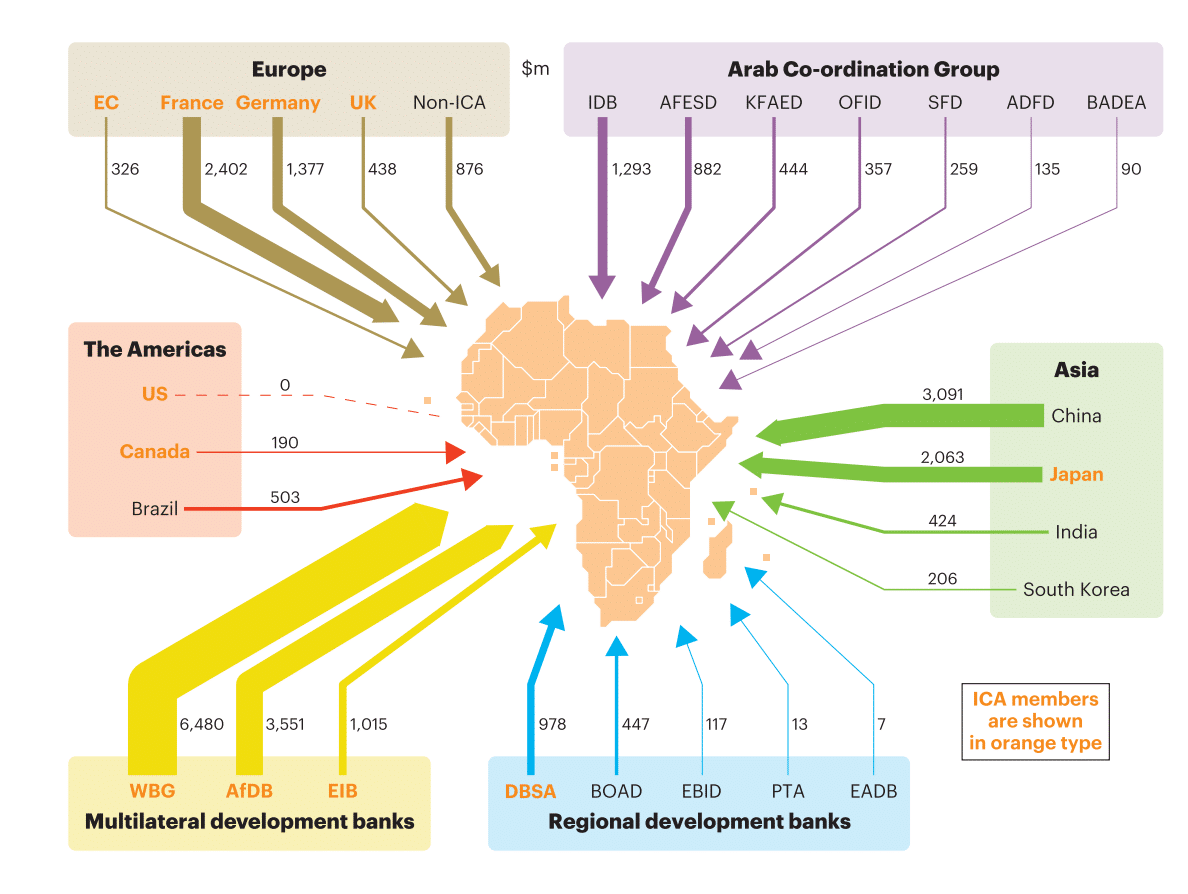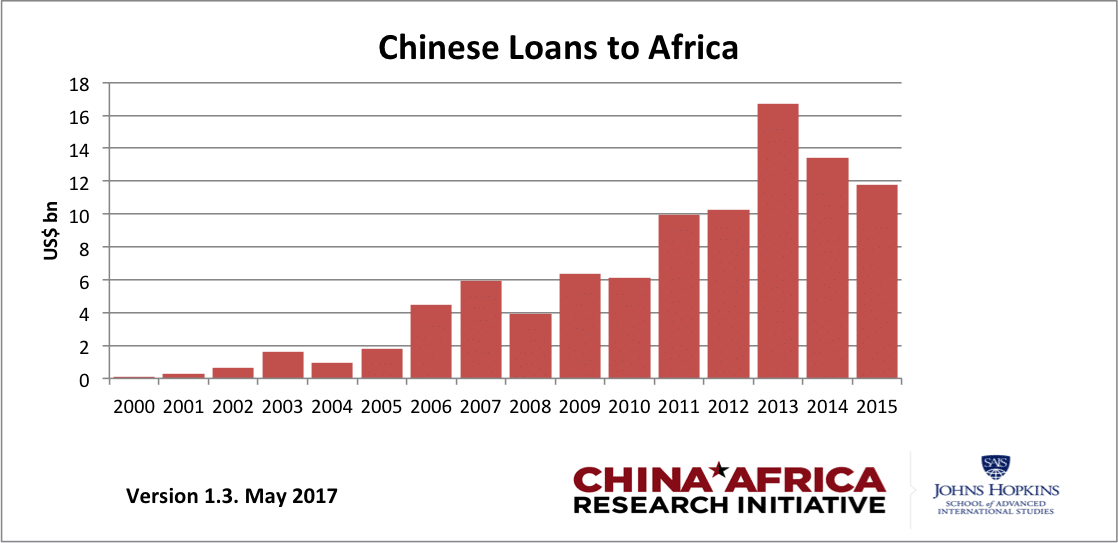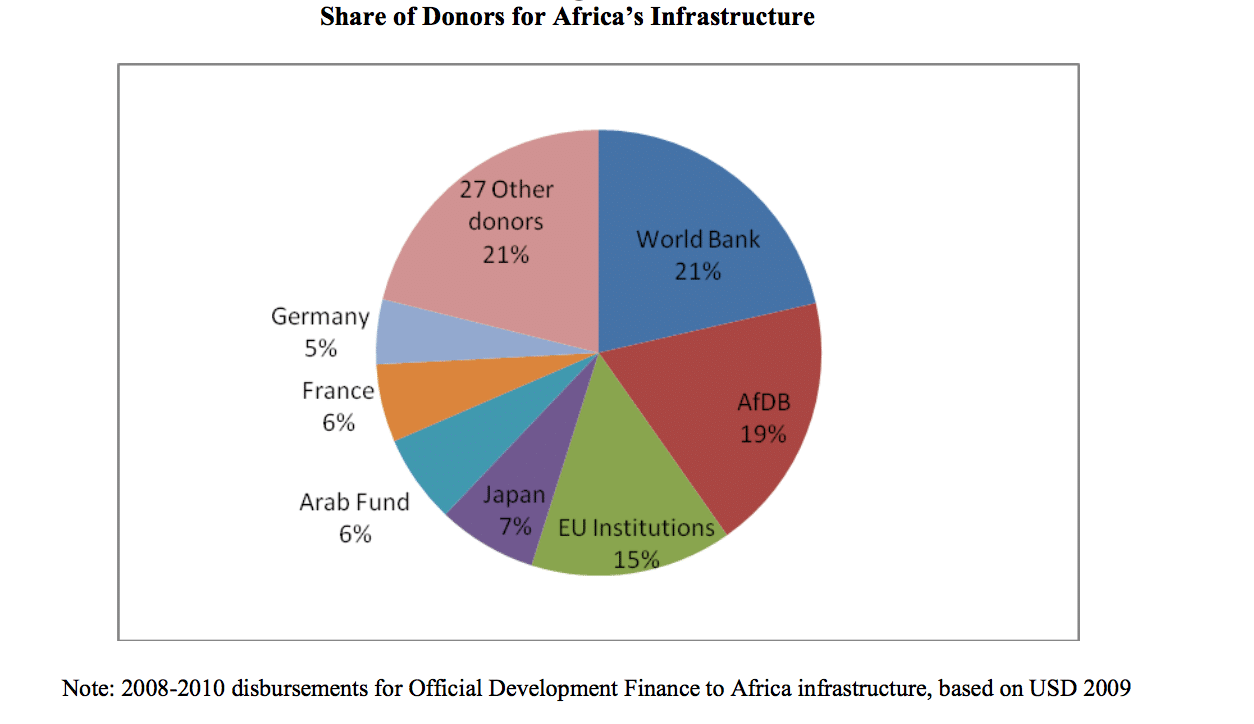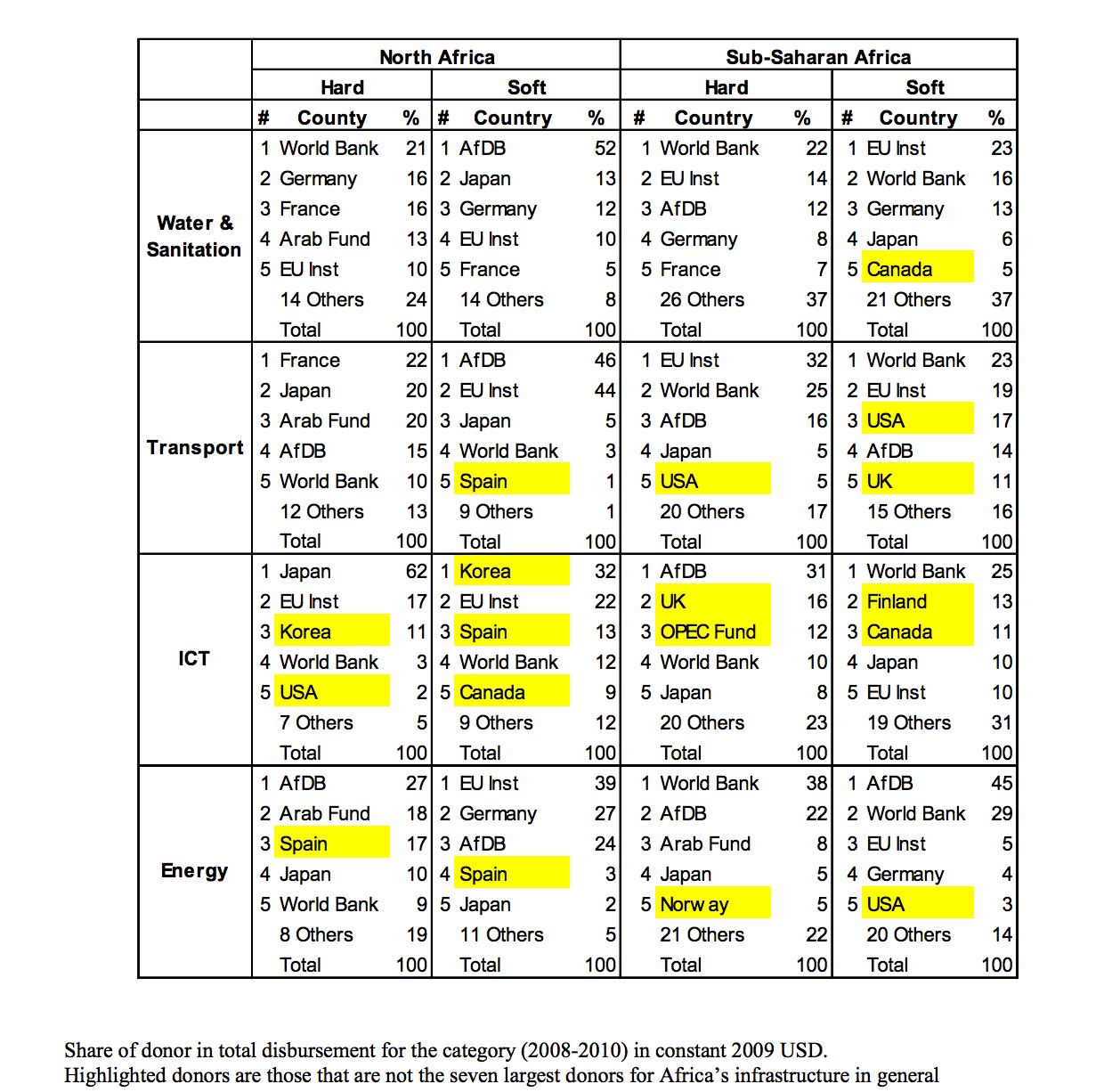 However, there are concerns mounting on the African countries debt profile. International organizations such as World Bank, UNCTAD, IMF currently ranked most African countries debt profile as unsustainable. According to an estimation done by United Nations Conference For Trade and Development (UNCTAD), the external debt of the continent via syndicated loans, bond and bilateral borrows has increased rapidly and stood at $443 billion as at the year 2013. It is obvious that African countries can no longer continue to finance its infrastructure projects through borrowings.
Debt Statistics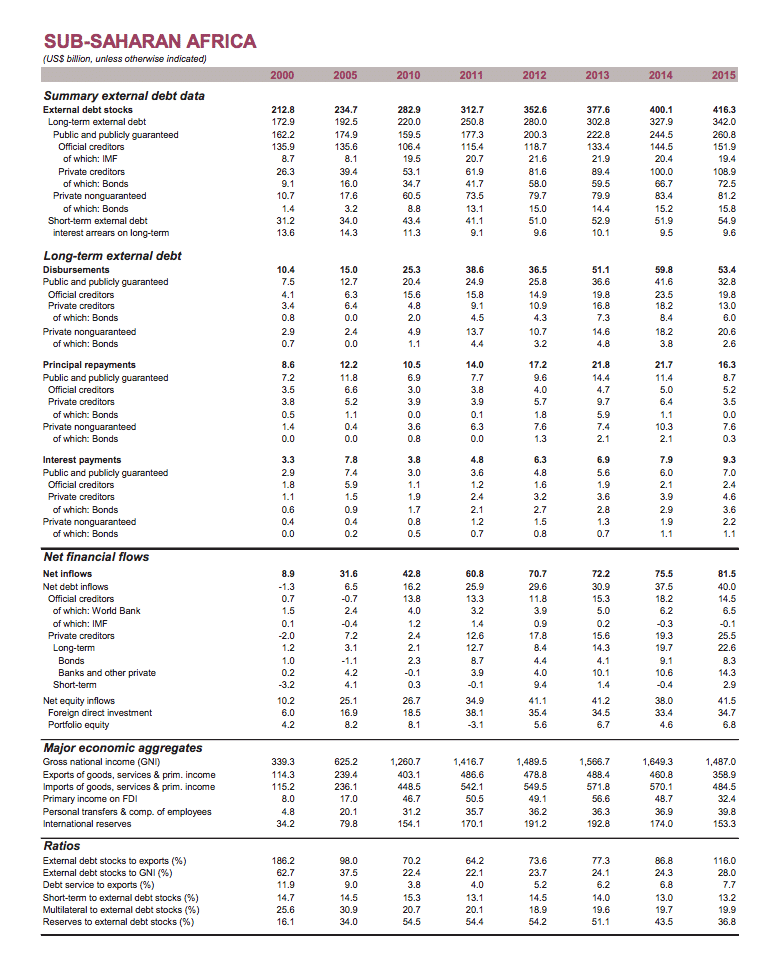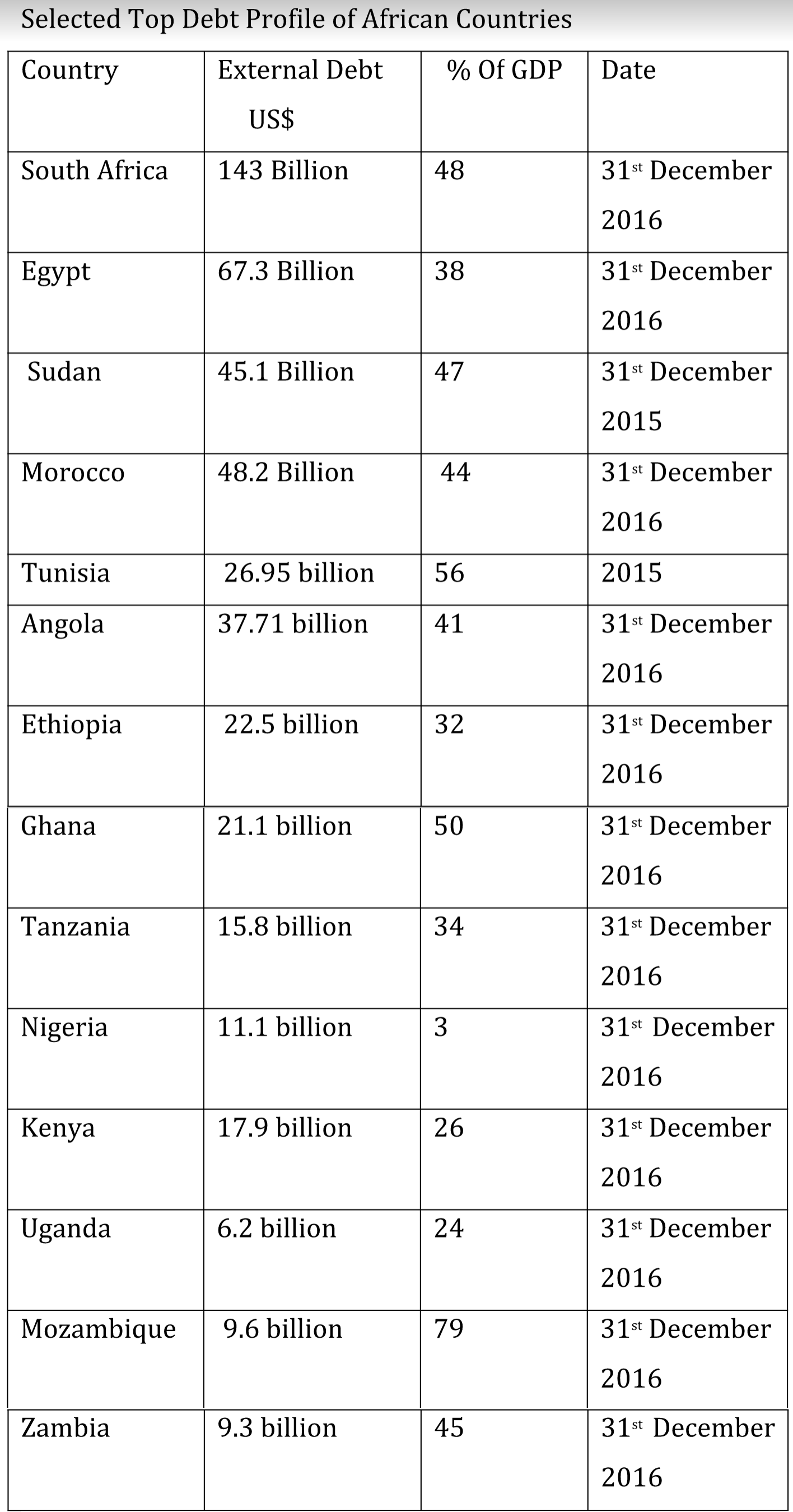 Bridging the Africa Infrastructure Gap
With several challenges being faced at the moment, it is paramount for African governments to look elsewhere for funding of its infrastructure gap. Africa Infrastructure provides higher returns on investment than that of Europe. The Western Europe has set an example of how private investors can be attracted to fill the infrastructure gap. The graphics below shows a wide range of how private sector can invest in infrastructure.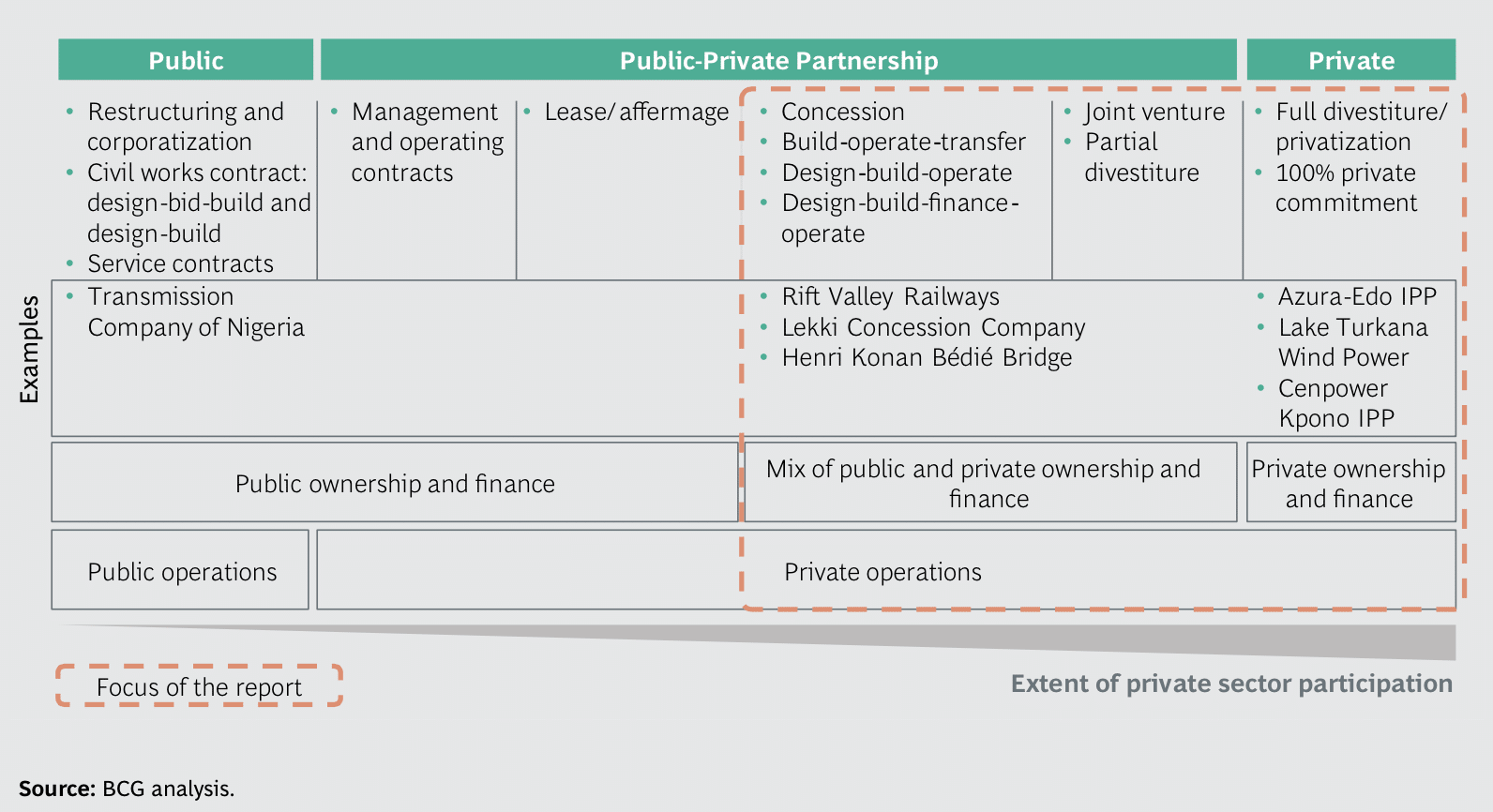 The graphics below summarizes a research carried out by Infrastructure Consortium For Africa to investigate the opinions of the private sector regarding investing in infrastructure projects in Africa.
Challenges Facing Private sector in Infrastructure Projects in African Countries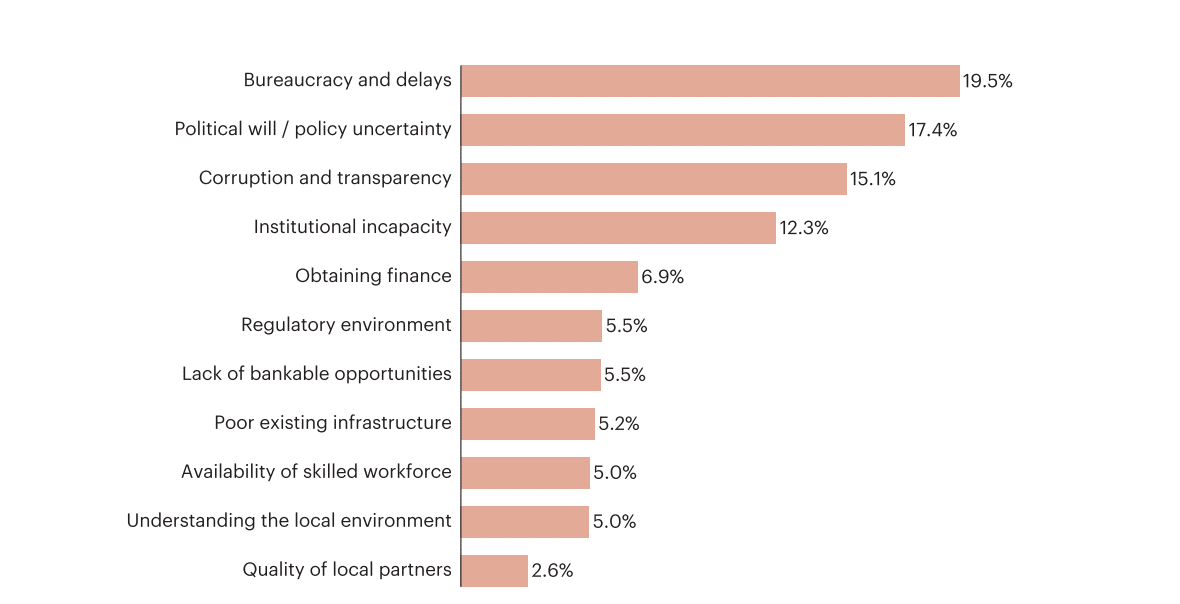 Risks unable to mitigate by Private Investors

It is time for African countries to move beyond words of mouth and tackles the problems deterring private investments; here are few key ways to attract private investors.
Government role: Experts in developmental economics always emphasize on governments playing key roles in enabling economic growth and attracting private investments. One area is providing adequate security for lives and properties. No investors will be willing to invest in a country with political crisis or instability. Furthermore, African governments need to focus on providing good governance, eradication of bottlenecks and bureaucracy, respect for the rule of law, formulating and implementing policies that will improve ease of doing business.
Transparency: The international transparency index ranked several Africa countries low, the government need to focus more energy on the improving transparency on the flow of deals and projects. According to Lakmeeharan, "Full transparency on the actual returns and materialized risks of infrastructure investment, including, but not limited to, defaults, is a precondition for giving investors greater clarity, developing indexes and other investment products, and justifying changes to regulatory treatment."
Priority: African governments need to set priorities and set it right when developing infrastructure projects by focusing public spending on key infrastructure projects that are less attractive to private investments.
Notes:
China Africa Research Initiative | Johns Hopkins, School Of Advanced International Studies, May 2017

"Euromoney Institutional Investor Company". Retrieved 2017-07-09

Foresight Africa, Africa Growth Initiative at Brookings 

Infrastructure Consortium For Africa, "Infrastructure Financing Trends In Africa," 2014

International Monetary Fund Data Bank, 2017

David Van Biljon, "INFRASTRUCTURE SPENDING: SA lags behind African countries," June 2017

Gravito et al, Infrastructure Financing in Sub-Saharan Africa, The Boston Consulting Group & Africa Finance Corporation, May 2017

International Bank for Reconstruction And Development/ The World Bank, International Debt Statistics, 2017

"The World Factbook" (PDF). Retrieved 2017-04-30

United Nation Conference For Trade And Development Data Bank, 2017
Author: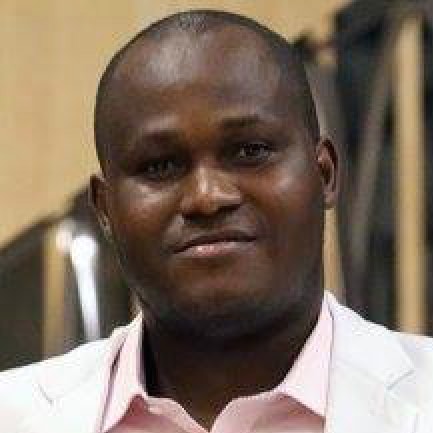 Tunji Bolorunduro
*Adetunji Teejay Bolorunduro holds MSc in Economic Development from the prestigious Adam Smith Business School, The University of Glasgow, United Kingdom. He is a China-Africa Engagement Researcher. He is also a co-founder at AfricaCV and a Senior Researcher at Afriscaper.