It was Saturday morning. I was having my first cup of coffee of the day and checking the notifications on my phone. When to my absolute surprise I had a Twitter DM from Dez Bryant. (As in the former All-Pro Dallas Cowboys wide receiver and megastar).
He wanted me to come to Dallas immediately to chat at his house.
So what did I do next? I booked a flight to Dallas before I even finished that first cup of coffee.
Then before I knew it I found myself at Dez Bryant's house sitting across the table from the man himself.
Naturally, I was a bit nervous as I didn't really know what to expect. I just boarded a flight like he asked and showed up. Luckily, Dez made me feel at ease right away.
What can I say? The man is as real as they come.
I enjoyed our chat and my time at his home immensely.
Here's a little piece of our conversation.
1. Can we start with a little bit about your backstory? One thing that stuck with me from our chat was how humble you are and how the experiences from your childhood have kept you grounded. What is it from your past that has helped make you the man you are today?
"The truth is life was hell growing up. My mom had me at 14. She quit high school and did what she had to do to keep us from being homeless. And that included selling crack."
"So that should give you an idea of what daily life was like. We had up to 15 crackheads in the house at all hours, and we never knew where our next meal was coming from."
"When I was nine, my mom went away to prison for a year and a half. We were basically left to fend for ourselves."
"All that changed when I left for college at Oklahoma State. And once I made it to the NFL and was drafted by the Cowboys, I told myself that I would never forget where I came from. And I've stayed true to that my entire life."
"What I learned is that the only way to lift myself up was if I did the work. To get out of where you're at in life, you have to do what it takes. And that involves lots of hard work."
"Use your God-given ability to the maximum and put in the work it takes to be the best."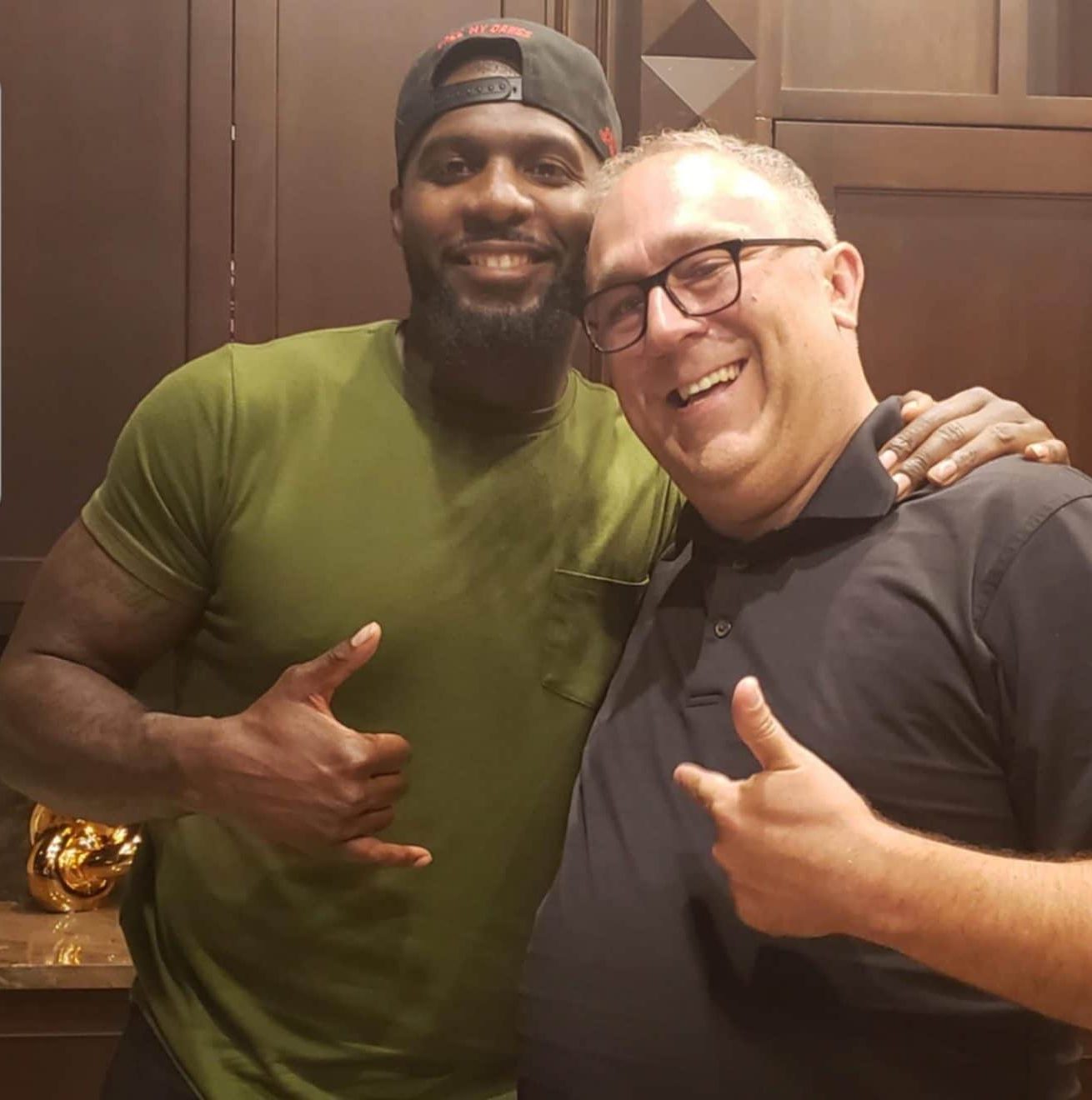 2. You recently put out a Tweet with some wise words for Antonio Brown, who has been in a bit of turmoil lately and it appears his NFL career may be over. What prompted you to want to help him and other professional athletes who are getting themselves in trouble?
"As athletes, we have to look out for one another, because we have a unique perspective into each other's lives you can't get without walking in our shoes."
"My Tweet to AB and other athletes was a show of love and support from someone who understands the system that they're in and how to navigate that system. We are in it together."
"Some people took my message to AB as me downplaying the charges against him. Nothing could be further from the truth."
"I fully understand the severity of the situation he's in. My intentions were to try to show support for him as a fellow athlete and to hopefully encourage him to make the best decisions possible going forward."
"I want to help other athletes be the best version of themselves on the field, spiritually, financially, and in their health."
3. One of the things I loved the most about meeting you was our discussion about your entrepreneurial endeavors. Like most people prior to us meeting, I knew you only as a mega-star football player. But what not many people know is you're a guy who started developing businesses well before your playing days were over. I quickly discovered you've got a brilliant mind for business and are a guy whose interests extend well beyond the gridiron. What can you share with us about your businesses and why was it important that you get started on your entrepreneurial journey while still playing for the Cowboys?
"All of my entrepreneurial endeavors so far have come from a desire to give back to other athletes."
"I truly care about people. So many pro athletes end up being broke after their playing days are over. And that's due to them not understanding the system they are in and the deals they are making with their money and time."
"It can all end in an instant on the field, so I wanted to be prepared for that day. Be ready for what's next."
"Going back to my roots, I know what it's like to have nothing. So that drives me to always have a plan for putting food on the table for my family."
"I developed a lot of interests outside of football, and my mind is always focused on ways to monetize them in a way that benefits an entire community of athletes."
"So stay tuned for more in the coming months, and I will have a lot to share with you all. And, of course, I will need your help to change lives."
4. When we were discussing business, you mentioned that while you were playing for the Cowboys, unlike the other players, you would regularly hang out in Jerry Jones' office and it wasn't because you were in trouble. So what made you want to spend time with the owner of the team?
"I've always been taught that you learn from the best."
"Knowing that I wanted to build a brand beyond football and open my own companies, I thought who better to learn from than Jerry Jones, the man who turned the Dallas Cowboys into a mega global brand."
"He is a legend for a reason. Watching him sell and make deals right in front of my eyes was so inspiring."
"The Cowboys as a brand are so much more than just football. To observe him managing it all and finding ways to pull every last penny of profit from everything all the way down to a slice of pizza was an opportunity I was fortunate to have while with the Cowboys."
"I'm now able to apply what I learned while in Jerry's office to my own businesses."
5. Having the honor of being invited into your home and meeting your wonderful family, I could tell right away that being an involved father is a huge priority. Can you tell us what you enjoy the most about being a dad?
"My kids mean everything to me. It's been a blessing to be at home more with them over the last year. I want to be the father to them that I never had. To be able to provide for them the things they need to be healthy and successful in life."
"At some point, you have to consider your legacy. You want your legacy to include the things. I want my legacy to include that I was a great father."
6. Last, what is the one thing you want everyone to know about Dez Bryant?  
"That I care."
To learn more about Dez, make sure to follow his Instagram @DezBryant.