An in-depth case study of Coca-Cola's branding and marketing strategy in the age of sustainable development.
The renowned global drinks brand Coca-Cola has been going through a change from the inside out.
The very fabric of Coca-Cola's brand DNA, architecture and identity are evidently going through a unification process, not only with itself but the growing demand for more ethical and meaningful brands.
Consumers are becoming increasingly aware of social and environmental issues, seeking brands that are good for people and the planet.
More aware of their buying power, consumers are changing our modern-day landscape of brands for the better through purchase power.
To survive as a brand of the future, Coca-Cola must interconnect its core values and message with what matters most to consumers.
Following public backlash in recent years, Coca-Cola is being forced to embrace its higher purpose and be true to the values it perpetuates within the public domain.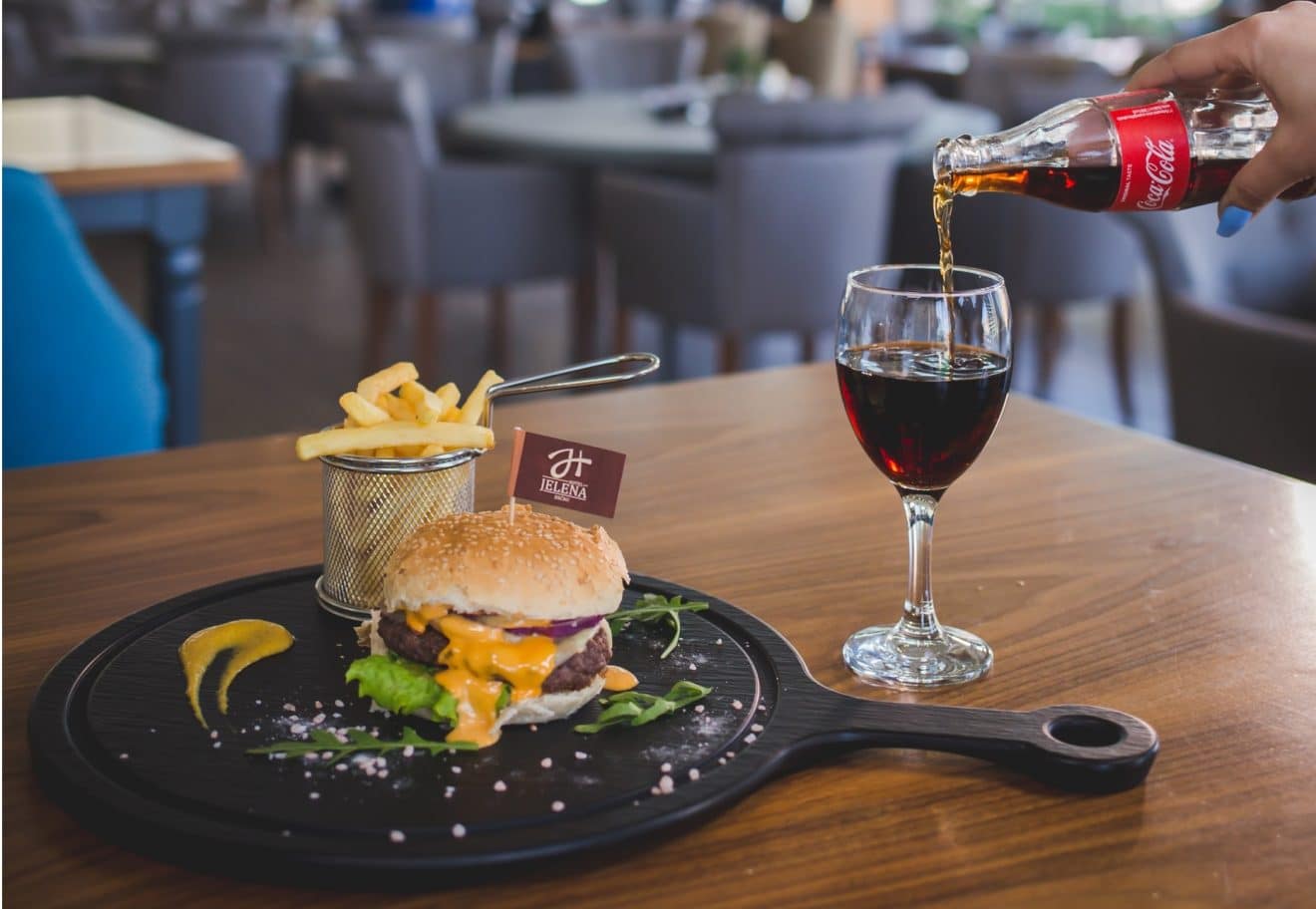 The company's mission statement, "To refresh the world in mind, body and spirit. To inspire moments of optimism and happiness through our brands and action" is in itself beautiful but this sentiment has clearly not been embedded within the culture of the brand and its products since its conception (Coca Cola Company 2017).
It is an ironic statement for a company that sells Coke, a sugar-laden soft drink that has been linked to rising obesity rates in key markets like the UK and US.
How can you refresh the minds, bodies and spirits of human beings with ingredients that are known to cause harm?
Coca-Cola has a history steeped in the use of cocaine as one of its original ingredients.
Until 1903, the world-famous soft drink contained a significant dose of the narcotic (Palermo 2013).
There have been a number of studies that have linked soda drinks like Coca-Cola to type-2 diabetes, obesity and coronary heart disease.
According to Coca-Cola's annual reports to the US Securities and Exchange Commission, the brand listed obesity and health consequences of Coke consumption as the single biggest threat to its profits and has since spent millions on lobbying health campaigns and even paying for their own counter research (Mayo Clinic Proceedings cited in Nestle 2015).
It is now mandatory for the funders of such research to be made clear and known to the public.
Such tactics could indeed fuel doubt for the brand amongst consumers and potentially damage any means of future success by coming across as insincere.
A modern audience with instant access to social media and a plethora of information at their fingertips is now near impossible to dupe.
Today's market is comparable to an audience around a house with glass walls, there really is nowhere for brands to hide, so honesty really is the best policy.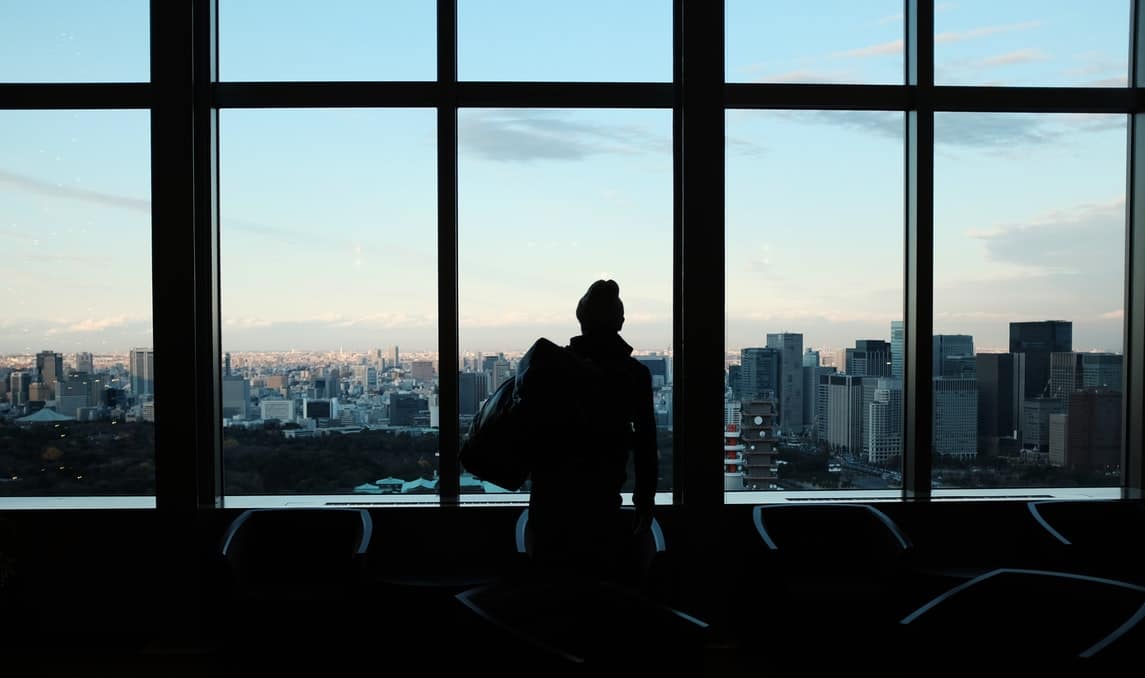 Coca-Cola's brand values are; "Leadership: The courage to shape a better future. Collaboration: Leverage collective genius. Integrity: Be real. Accountability: If it is to be, it's up to me. Passion: Committed in heart and mind. Diversity: As inclusive as our brands. Quality: What we do, we do well". (Coca-Cola Company 2017).
Even with recent hindsight, using accountability as a value would be closer to liability, noting the detrimental health impacts the beverage has on human health.
Also referring to quality, while they may make soft drinks well, using the term in a broader context can be perceived as irresponsible knowing the affects of such ingredients as caramel colouring and phosphoric acid.
In regards to their value of passion, considering their approach to past political lobbying and tactical avoidance of the sugar issue, the integrity of this value is arguably questionable.
In terms of leadership, Coca-Cola is without a doubt the leading soft drinks company with a market share of over forty-eight per cent of worldwide carbonated beverages (Statista 2017).
It has the position to lead by example. While they are taking steps to reduce the use of plastic bottling, such as the vegetable alternative used for their Smart Water Glaceau brand, and reducing their reliance on fossil fuels, Coca-Cola has the potential to do so much more.
In regards to their ingredients, there are independent companies such as Fentimans that produce quality cola without the majority of ingredients that Coke uses that are known to be harmful. Instead, Fentimans uses natural alternatives.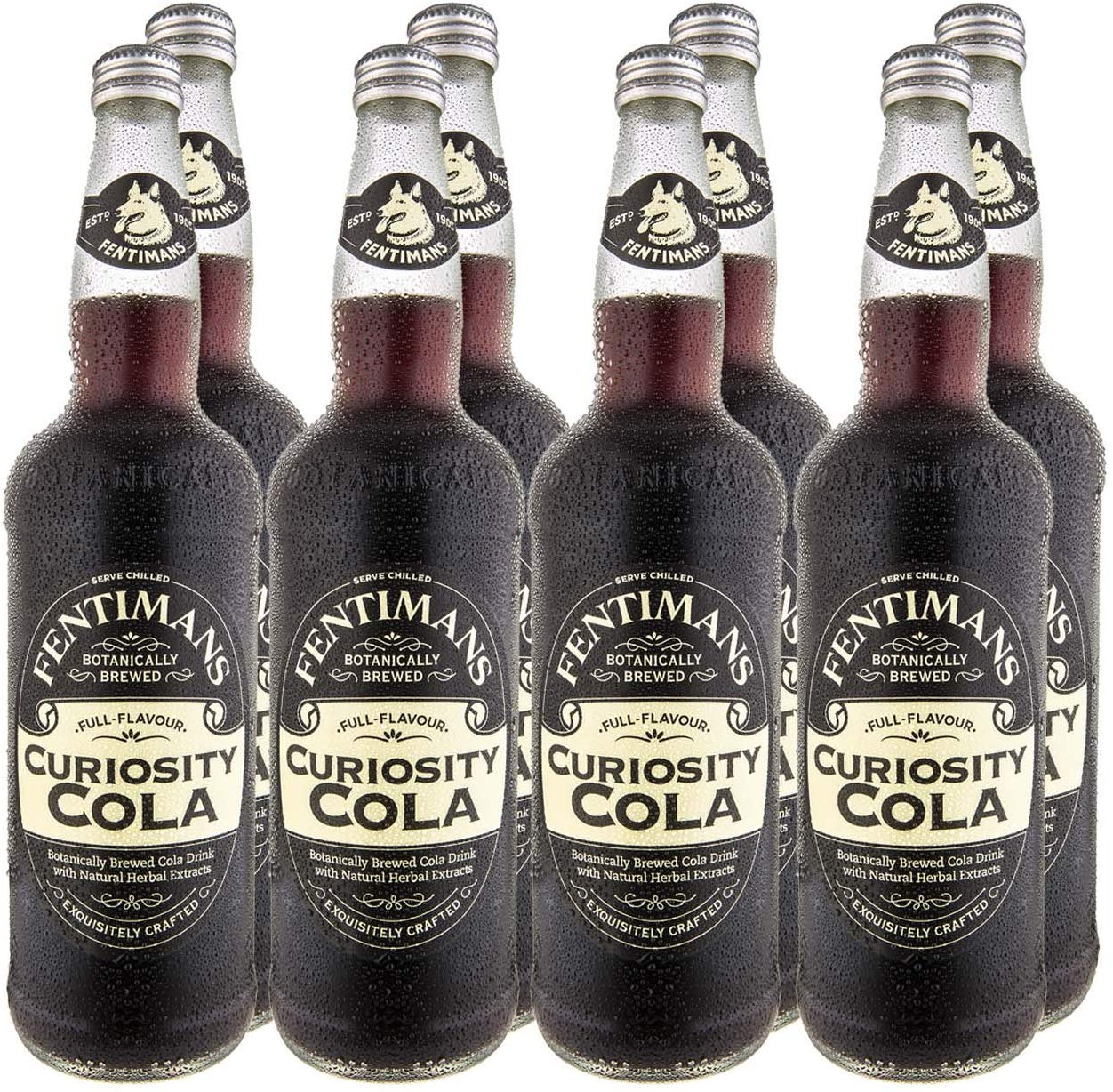 (Disclosure: We have no ties with Fentimans and gain no commercial advantage by mentioning them.)
There is no reason why Coca-Cola could not follow suit unless profit is the primary objective.
Regarding the value of collaboration and the leveraging of collective genius, previous efforts have been to the contrary.
Their past activities have included the sponsorship of the Olympics, endorsing the pinnacle of athleticism with unhealthy sugar-laden drinks, a paradox in its own.
Coke has also given support to rodeos like the Cheyenne Frontier in the US amid public outcry over animal welfare.
These events lead to the injuries and deaths of countless horses and cattle in the name of 'fun and games', a brand association that in this day and age with the rise in the vegan lifestyle and environmental awareness could be very costly (Shark 2013).
Their response to this matter was that the brand cares for the welfare of animals. It is rhetoric such as this that questions the validity of their values.
Another matter is the controversy that has plagued the brand for over ten years is the alleged violence towards Guatemalan workers and anti-labour actions at their South American bottling works.
It is what has been labelled as Killer Coke, a far cry from their value of diversity and their mission to be inclusive (Warner 2010).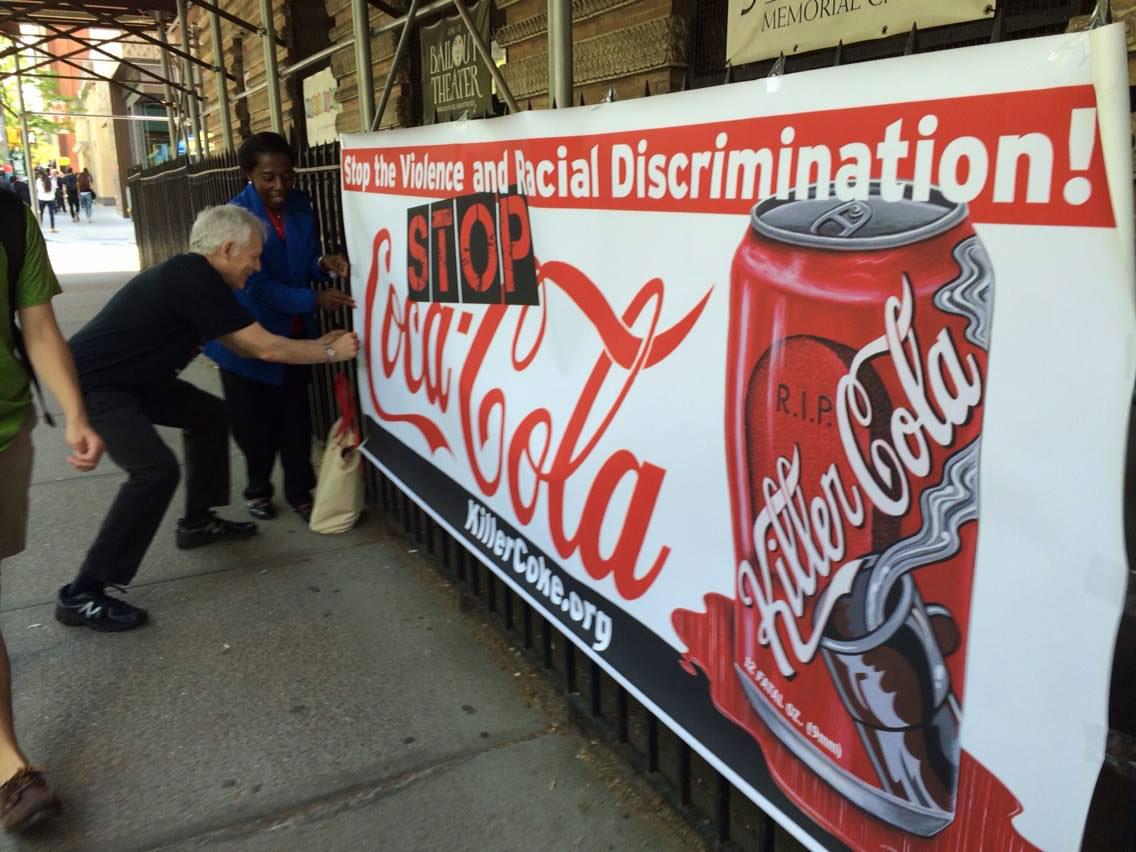 (2014, Killer Coke)
All of that being said there is a transition on the horizon.
With James Quincy the newly appointed CEO at the helm, a brand eco-system is beginning to emerge that connects the brand with 'who they really should be' and 'what customers really want'.
Focused on creating a portfolio of consumer-centric brands, their new global business strategy Our Way Forward is a testament to the multifaceted efforts being taken to listen carefully to the customer and act much more responsibly.
It is clear that Coca-Cola is trying to align with the shifts in consumer attitudes and behaviour by moving from a profit-led strategy to a purpose-led brand strategy.
As a global conglomerate, Coca-Cola has always operated within a traditional brand architecture. However, in 2015 they rejected their sub-brand strategy in favour of a unified and simplistic positioning strategy with a branded house approach.
A distinct change in the Coca-Cola brand architecture and strategy is forming a more cohesive message under their new global initiative One Brand.
Take Coke for example, rather than advertising regular Coke, Coke Life, Diet Coke, Coke Light and Coke Zero as separate sub-brands, their focus has been on combining all of these into one under the Coca-Cola master brand.
Coupled with the Taste The Feeling positioning, One Brand emphasises the company's commitment to ensuring the public can enjoy the Coke taste and maintain their healthy lifestyles, giving them both choice and convenience.
This activity follows revelations including that of one in the UK, where fifty per cent of customers had no idea that Coke Zero contained no sugar (Micklethwaite 2016).
In this particular instance, Coca-Cola is upholding their principles of social responsibility.
The influence of the Millennials and Generation Z cannot be ignored, who since the advent of Web 2.0, apps and social media, are only too happy to share information and opinion, positive or negative, which has the ability to spread worldwide in literally a few clicks.
Following the health revelations at the turn of the Millennium with sugar's link to obesity and diabetes, companies like Coca-Cola could have faced real problems but with the new tact to finally listen to the audience, they have since enjoyed growth and in 2017 for the first time ever, Coke's sugar free products are contributing to half of their overall sales (Goodfellow 2017).
The company has also strived ethically, retaining its vow of responsibility to avoid marketing to children, which it does so by refraining from advertising to audiences where over thirty-five per cent of its reach is under the age of twelve years of age (Coca Cola Company 2016).
The brand also achieved an environmental milestone through its community water projects.
In 2016, Coca-Cola returned an estimated 191.9 billion litres of water of the Earth through a variety of projects, equating to over one hundred and fifteen per cent of its water usage the previous year, achieving their 2020 water targets four years early (Kell 2016).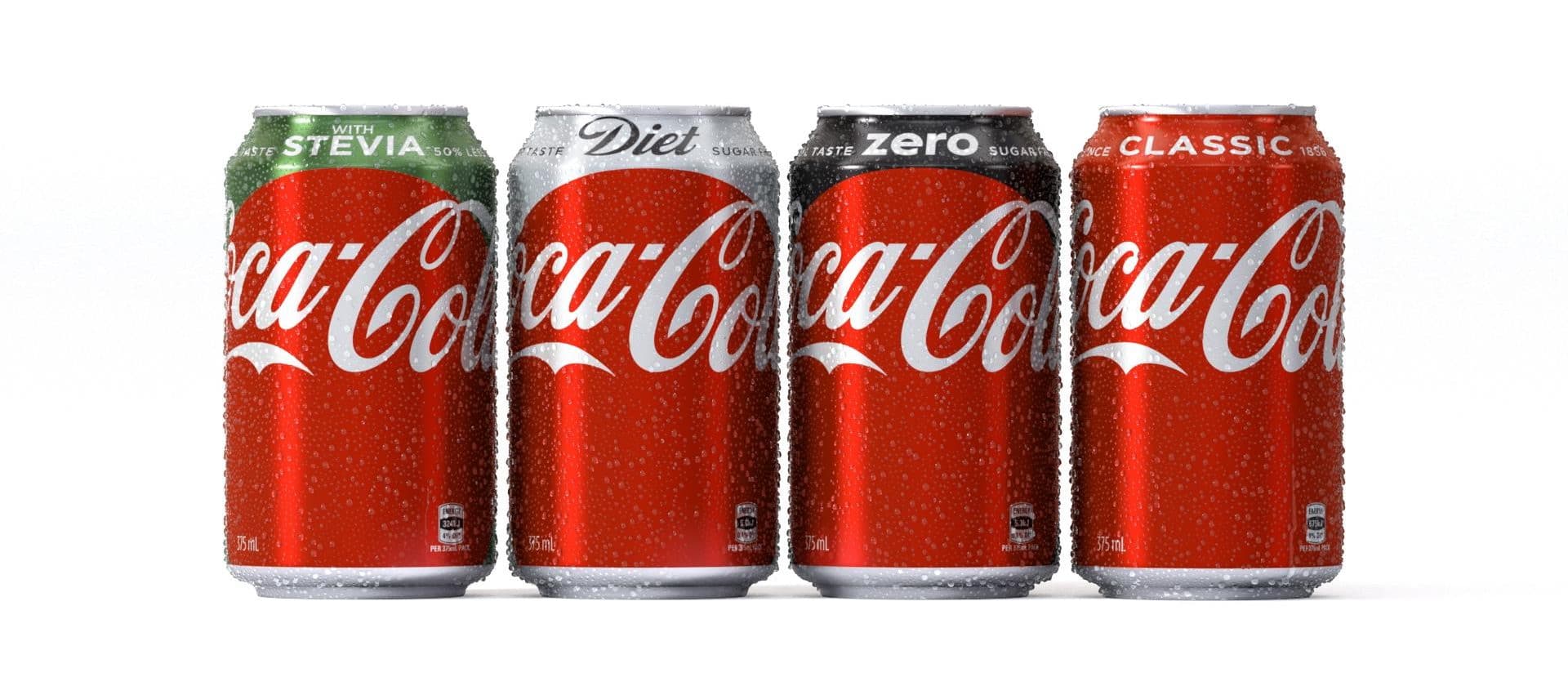 (Ogilvy Australia Coca-Cola One Brand)
Coca Cola is often viewed as a company that has something on offer for everyone.
The brand reaches its target markets through the inclusion of demographics, geographical location, psychographics and behavioural insight.
It now takes a segmented innovative approach to market practices, giving consideration to age, ethnicity, gender and lifestyles across its product categories.
The brand has always had a diverse appeal across its portfolio of products. However, for the purpose of this article, the focus will be on the Coke master brand.
From a brand strategy perspective, Coca-Cola has developed a universal brand appeal with consistent messaging that is adapted to be culturally relevant and meaningful to the inhabitants of a geographical location or region.
There is no denying that this segmented approach over the years has led to the brand becoming such a prolific success.
Understandably the target audience for Coke is as diverse as its products, satisfying the needs of a variety of consumers with different tastes and lifestyles.
Whilst I cannot find a specific audience profile, it is evident that whilst all age groups consume Coke, its core target market is the younger generations with a smaller segment of older age groups.
Coca-Cola is a social brand much like its media-savvy audience who spend a lot of time in fun social settings with groups of friends.
The most important thing to its consumers in a beverage product is taste. This has been reflected in the new Taste The Feeling campaigns depicting young people usually together in a shared Coke experience.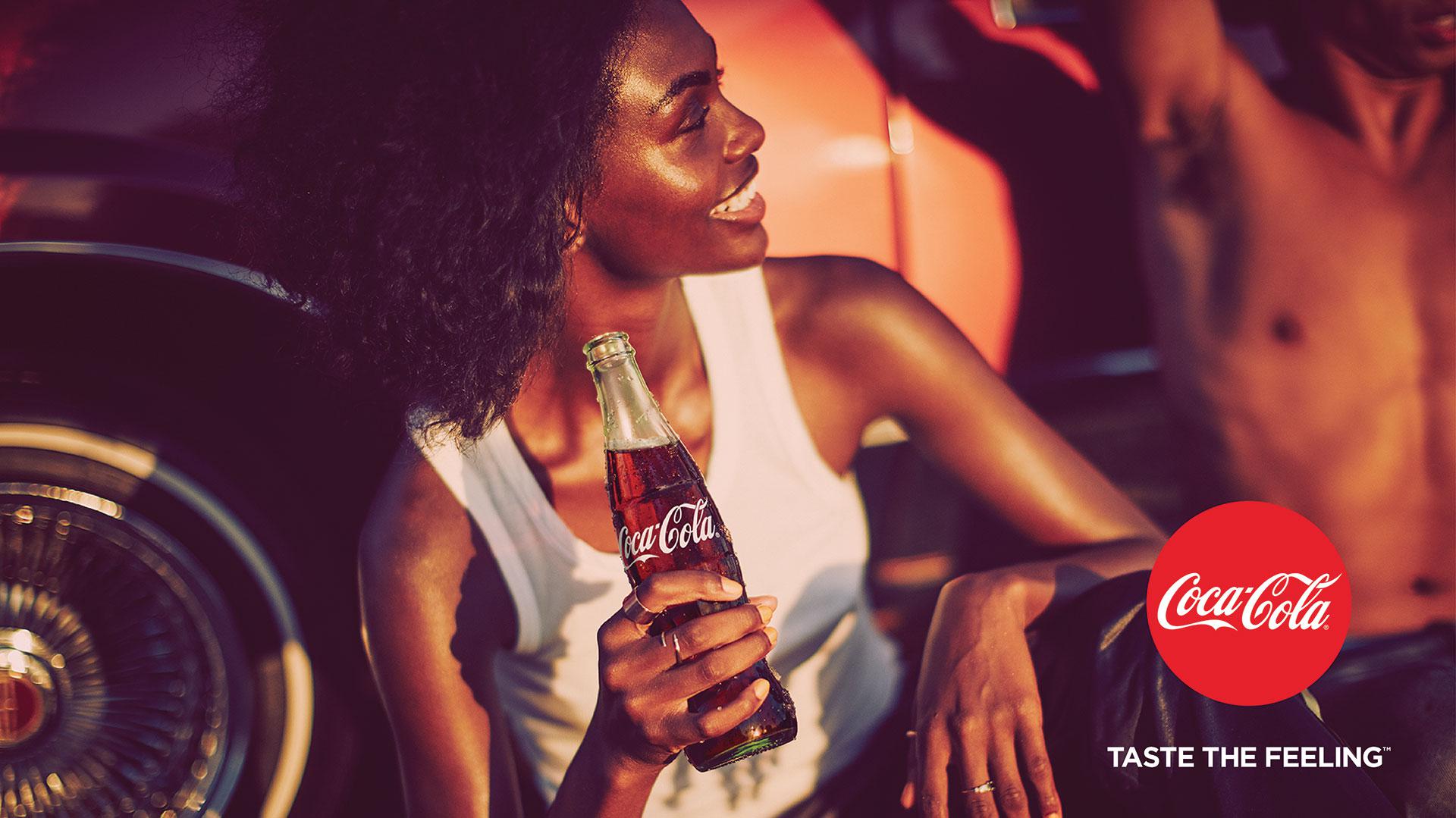 (Aroch 2016, Taste The Feeling)
In terms of the company's brand positioning, it is the leader of the soft drinks market.
Through its own brands and acquisitions, it has amassed nearly fifty per cent of the global carbonated drinks market.
Coca-Cola has experienced somewhat of a rollercoaster performance during its 23 years on the Fortune 500 list.
It currently sits at position 64, a far cry from its peak in the mid-1990s, but a considerable improvement from its slump in 2002 plummeting to 99.
The soda market as a whole has declined in recent years, mostly due to a growing desire for a healthy lifestyle, and awareness of high sugar consumption and risks of illnesses such as diabetes, obesity and heart disease.
While soft drinks in the UK have declined by seventeen per cent (notably after former Chancellor of the Exchequer George Osborne's Sugar Tax), bottled water has seen an increase of eight per cent, in which Coca-Cola has revered in the success of its sub-brand, Glaceau (BSDA 2016: pp.6-15).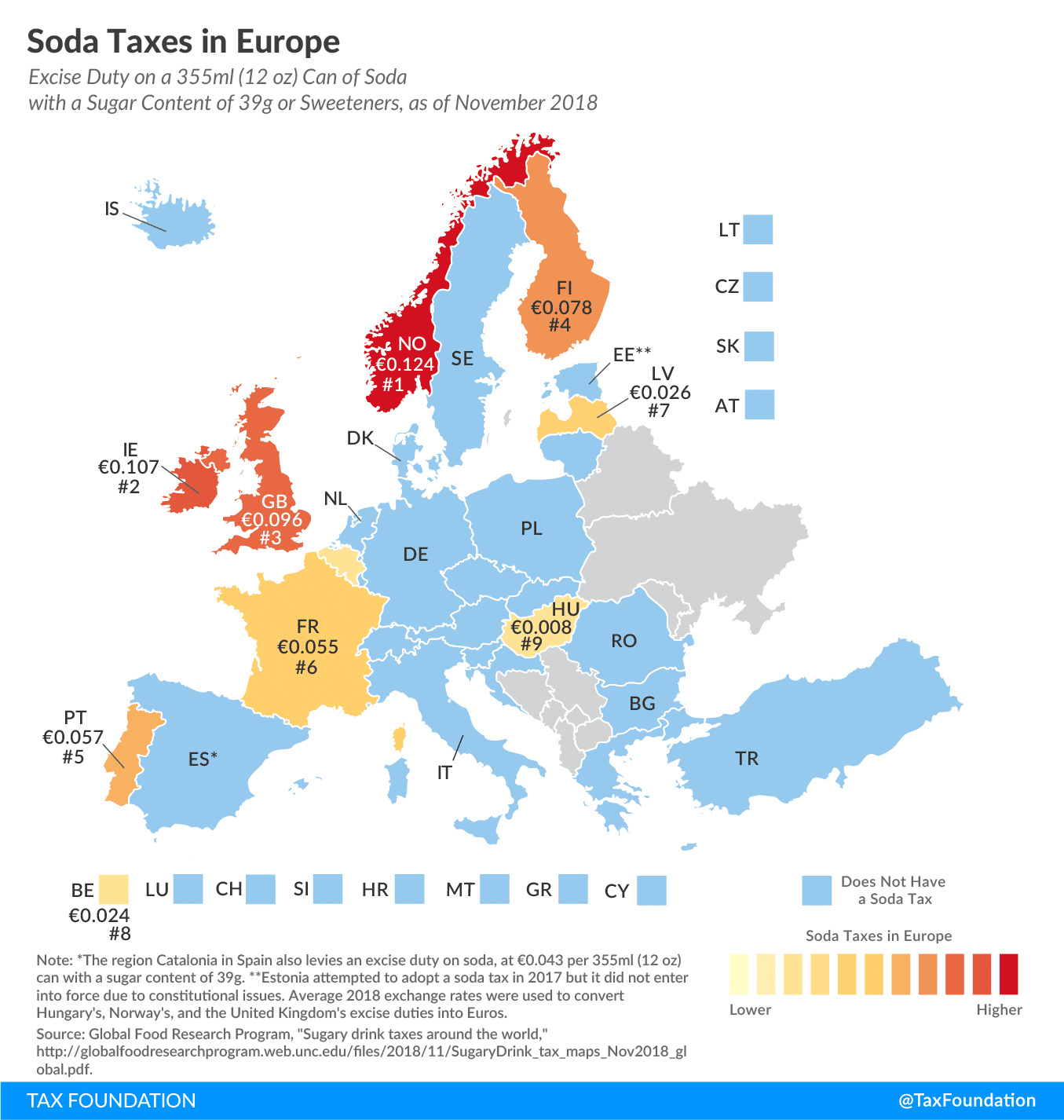 (Graph Source: Tax Foundation)
In summary, as a heritage brand Coca-Cola has faced substantial scrutiny over the years. However, it has continually evolved to the dynamics of the market and now they are finally listening to what people really want and seeing positive results after negative brand perception.
In rejecting the old ways of undifferentiated mass marketing and implementing a clear and concise brand strategy that focuses on the product, it is now beginning to reap the rewards.
Despite the initial critique highlighting the brands' lack of authenticity, in recent years Coca-Cola has been striving towards transformation, implementing an executive change that has resulted in the creation of a more clear vision and strategy.
Formerly Coca-Cola has relied on commercials and marketing techniques amongst the traditional media sphere, evidently that is now changing with social and environmental initiatives being incorporated into its activities.
It has taken flagging sales for them to finally listen, which is now resulting in growth and a more genuine relationship with its consumers. Brand perception is finally on the up.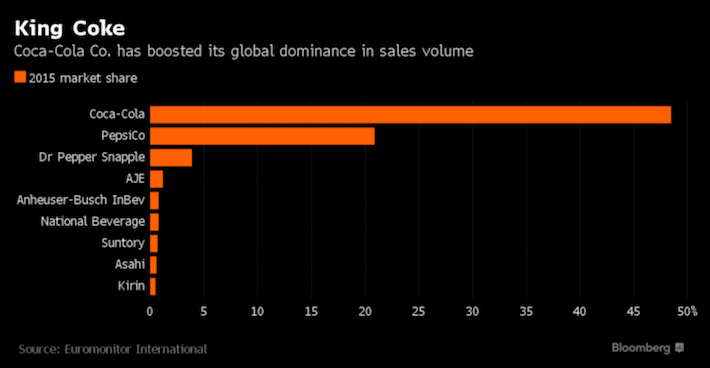 (Euromonitor International, 2017, Coca-Cola Market Share)
The One Brand strategy focusing on the overall brand of Coca-Cola addresses the lack of clarity and differentiation amongst the four coke brands.
The different personalities of the variations got lost in translation.
Since the implementation of the One Brand strategy, they have experienced growth in retail sales and a rise in the profile of the Coca-Cola master brand.
In moving with the times the brand has appointed a new 'Chief Growth Officer' in its bid to become a growth-orientated and consumer-centric beverage company.
In a strategic shift incorporating technology, innovation and sustainability, it is clear companies like Coca-Cola can no longer rely on traditional methods, out-dated business models and hierarchical structures that are not in alignment with its new vision or consumer expectations.
In retrospect, I believe the brand has made some appalling past decisions linked to corporate greed and profitability. However, Coca-Cola is realising the error of its ways and is making changes for the better.
The negative brand perception and lack of growth have been the key driver in their new strategic operations, although I still think there is so much more that they can do.
The issue for me is the Coke master brand and its disconnect with its new health initiatives.
It remains unhealthy and sugar-laden. Whilst taste is one of the main factors for purchase, public health should be its priority.
Altering the master brand recipe could address all of the issues resulting in a rise in brand loyalty, whilst being more economically and environmentally sustainable. There would be no need for the variants.
This would reposition the master brand as a firm favourite amongst the health-conscious and environmentally aware Generation Z and the Millennials, who cite sustainability as a key purchase factor.
Moving forward and retaining a sustainable approach, Coca-Cola would enjoy a prosperous future and will live up to its value of leadership to inspire and lead the way.
References
Bibliography and Articles
CIALDINI, Robert B. 2007. Influence: The Psychology of Persuasion. New York. Collins Business.

EDGE, J. & Andy MILLIGAN. 2009. Don't Mess With The Brand. London. Prentice Hall.

GODIN, Seth. 2015. We Are All Weird: The Rise of Tribes and The End of Normal. London. Portfolio Penguin.

GOODFELLOW, J. 2017. 'Coca-Cola Claims Half of its Sales Come From No-Sugar Variants As It Ditches Coke Life' The Drum. Available at: http://www.thedrum.com/news/2017/04/06/coca-cola-claims-half-its-sales-come-no-sugar-variants-it-ditches-coke-life [accessed 10/06/2017]

HOBBS, T. 2016. 'Coca-Cola Takes 'One Brand' Marketing Strategy Global With Taste The Feeling Campaign' Marketing Week. Available at: https://www.marketingweek.com/2016/01/19/coca-cola-takes-one-brand-marketing-strategy-global-as-it-unveils-new-tagline/ [accessed 10-06-2017]

KELL, J. 2016. 'Coca-Cola Just Hit A Major Environmental Milestone' Fortune. Available at: http://fortune.com/2016/08/29/coca-cola-water-project-milestone/ [accessed 10/06/2017]

MICKLETHWAITE, J. 2016. 'Coca-Cola Spends £10 million On Coke Zero Release Because 50 Per Cent Don't Know What It Is' Evening Standard. Available at: http://www.standard.co.uk/news/health/cocacola-relaunch-zero-sugar-drink-as-half-of-people-unaware-it-contains-no-sugar-a3229436.html [accessed 10/06/2017]

NESTLE, Marion. 2015. 'Coca-Cola Says It's Drinks Don't Cause Obesity. Science Says Otherwise' The Guardian. Available at: https://www.theguardian.com/commentisfree/2015/aug/11/coca-cola-obesity-health-studies [accessed 11/06/2017]

PALERMO, E. 2013. 'Does Coca-Cola Contain Cocaine?' Live Science. Available at: https://www.livescience.com/41975-does-coca-cola-contain-cocaine.html [accessed 11/06/2017]

WARNER, M. 2010. 'Killer Coke Campaign: The PR Nightmare That Won't Go Away' CBS News. Available at: http://www.cbsnews.com/news/killer-coke-campaign-the-pr-nightmare-that-wont-go-away/ [accessed 10/06/2017]

WALKER, Rob. 2008. I'm With The Brand. London. Constable.
Websites
BSDA. 2016. 'Leading The Way, Annual Report' British Soft Drinks Association. Available at: http://www.britishsoftdrinks.com/write/MediaUploads/Publications/BSDA_Annual_report_2016.pdf [accessed 11-06-2017]

Coca-Cola. 2017. 'Coke's Way Forward: New Business Strategy To Focus On Choice, Convenience And The Consumer Coca-Cola Journey. Available at: http://www.coca-colacompany.com/stories/business/2017/cokes-way-forward-new-business-strategy-to-focus-on-choice-convenience-and-the-consumer [accessed 10/06/2017]

Coca-Cola. 2017. 'Half of Coca-Cola Sales Coming From No Sugar For The First Time' Coca-Cola Journey. Available at: http://www.coca-cola.co.uk/newsroom/press-releases/half-of-coca-cola-sales-coming-from-no-sugar-for-the-first-time [accessed 11/06/2017]

Coca-Cola Company. 'Our Company' Our Mission, Vision and Values' Coca-Cola. Available at: http://www.coca-colacompany.com/our-company/mission-vision-values [accessed 10/06/2017]

Coca Cola Company. 2016.'Responsible Marketing Policy' Coca-Cola. Available at: http://www.coca-colacompany.com/stories/responsible-marketing [accessed 11/06/2017]

Fortune. 2017. 'Fortune 500 List' Fortune. Available at: http://fortune.com/fortune500/list/ [accessed at 10/06/2017]

Nielsen, 2017, 'Beverages' Nielsen. Available at: http://www.nielsen.com/us/en/top10s/beverages.html [accessed 10-06-2017]

Shark, 2013, 'End Coke Cruelty' Shark: Showing Animals Respect & Kindness. Available at: http://www.sharkonline.org/index.php/take-action/contact-corporate-sponsors/820-coke-cruelty [accessed 10/06/2017]

Statista 2017, 'Market Share of Carbonated Beverages Worldwide as of 2015, By Company' Statista. Available at: https://www.statista.com/statistics/387318/market-share-of-leading-carbonated-beverage-companies-worldwide/ [accessed 11/06/2017]