Many people that sell their time to create an income struggle to do things that don't create revenue because, after all, there are only so many hours in the day. Yet we are told to add value at every turn, and we want to, but if we don't get paid for time put into a task, who pays the bills? We all need to earn a crust no matter what we sell. I want to flip that on its head and suggest that we do get involved with some things that don't create an immediate income, and look at playing the long game.
A couple of weeks ago, doing things for free paid off for me.
A lady called me to check on one of my speaking topics – she was interested in enlightening her team with something on developing their personal brand, which I could definitely help her with. Now at this point, a prospect would normally ask what my fee is, what exactly do they get for that and check to see if I am free on the date they have in mind, but on this particular day, it didn't go like that at all. She simply asked if I was free for the two dates in question and booked them. Rather than have an embarrassing moment later on, I had to raise the issue of my fee so there would be no nasty surprises when I sent in my invoice to be paid.
"Oh your fee is fine," she said. "I just wanted to book you. I Googled what I needed and so much came up about you, it just had to be you we booked." All the free stuff I had written over the years along with the podcasts, the videos and the books, added up to a massive amount of information, and she wanted it.
Over the years I have written oodles of articles for various sites on a wide variety of subjects without any sort of compensation bar the audience's eyeballs. Many folk do exactly the same as me. If you too get paid for your time, think about doing some of these activities for little or no reward in order to play the longer game.
Free speaking gigs:
Use these events to practice new material, generate word-of-mouth publicity, meet new business people and generally hone your presenting skills. If you are doing it for free, it's only fair you change your presentation from what a paying client would receive. For free I deliver the what and the why, but never the how – that information is worth paying for. Integrity is a core value of mine.
Free articles:
Many websites will have a much larger and probably very different audience than your own. Having articles published on various sites definitely gives your work many more views, and as long as the articles are all different, Google will love you too. It's by working with the smaller sites that you get picked up by the bigger ones, in turn giving you some much-needed recognition. Include a link back to your site and a short bio with each article where possible.
Podcasts and interviews:
Lots of hosts have their own online radio show or podcast show and are on the hunt for varied content – let that content be yours. If you get asked, hey, it's maybe 30 minutes of your time over Skype one evening and you never know who will listen to it. If you haven't yet been asked, volunteer. Make a list of those you would like to be interviewed by and start with them – you can probably find them on LinkedIn. It's a great way to promote your latest book, too.
Books:
A considerable amount of time goes into creating a great book, and while you probably won't make much money from it, it brings opportunities in other ways. I give my books away to prospects as an expensive business card. They hang around longer, have more use and make me the authority on a subject, even more so if a well-known publisher has published it.
I also like to give books away just as and when I can. As I stood waiting to order my coffee recently, a chap behind asked if I was Linda Coles the famous author. (I definitely don't consider myself famous, but I enjoyed the compliment!) He said he had my last book, Start with Hello, which was given to him at a workshop, so I handed him my latest book, which I had a copy of in my bag. He was absolutely delighted. Do you think he is now a cheerleader of what I do? Of course he is, and it delighted me just as much to be able to make his morning. Don't write a book to get rich unless you are as good as J.K. Rowling, but writing is a great exercise for developing your knowledge in something.
Free consultations:
If you can help someone in need, go for it. Giving an individual a bit of your time feels good to yourself as well as the person receiving it, and you might just be creating another cheerleader along the way.
There is only so much time available, but see the bigger picture and act where you can. If you sell your time and knowledge, consider doing a percentage of it pro bono for the longer term, and just because it feels good, which is a reward in itself.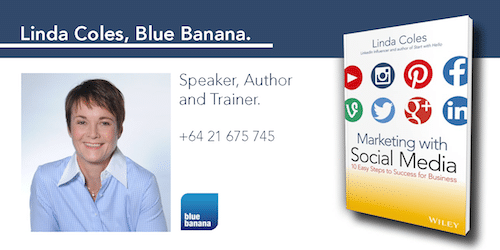 Written by: Linda Coles (Professional speaker, author and trainer in the area of social media and building relationships at Blue Banana. She has presented to teams at Microsoft, Transpower, ANZ, the CPA and Auckland University Business School, among others. She has been published by the New Zealand Herald, NZ Business Magazine, Mashable.com and Social Media Examiner, and is one of only 500 LinkedIn influencers worldwide, with a following of nearly 300,000. A content-driven speaker and author, her work is thought-provoking, useful and peppered with real-life examples. She has written three books published by Wiley; her latest, 'Marketing with Social Media', is out now)