Introduction
Great Britain is one of the few countries in the world with well-documented archives spanning over a millennium, with a wealth of history and heritage.
We wanted to find out the oldest businesses in the UK which have navigated the decades, breaking through the prestigious and very rarely achieved century milestone.
Researching Britain's oldest brands was a lengthy process, yet the acquired knowledge was worth the effort.
The commercial business history of Britain spans many centuries, having acted as a global incubator for capitalism and economics.
Many companies have taken advantage of the opportunities Britain has to offer, and some have thrived in doing so.
Success means leaving a legacy, creating jobs and having an impact on society. And these companies have done exactly that.
These 100-year-old British brands have left legacies spanning over a century. Most continue to stand firm and are famous UK companies, even if all their products and services are not.
You may have paid for their products or services in the past without thinking twice about when they began.
All of these organisations have survived the First and Second World Wars, and know about resilience, with a few even contributing towards national-security during chaotic times.
They all prospered nationally, and some even became iconic brands worldwide.
The stories of these companies consist of inspirational tales of triumph over adversity, unmistakable genius, and plain-old British luck.
Here is the ultimate list, including historical information and video documentaries, about Britain's oldest companies which still exist today, starting with the oldest:
Meet the Centenarians!!
1. The Royal Mint (Founded: 886 AD)
In 886 AD, Alfred the Great, King of Wessex, recaptured London from the Danelaw. He began issuing silver pennies with his portrait later that year.
This triumph marked the beginning of the Royal Mint.
By 1279, every function of the Royal Mint was centralised in the Tower of London, where they remained until the 1960s.
History got made in the late 1960s because for the first time since 1279 the Royal Mint performed its functions from a different place than the Tower of London.
At the time of writing, the Royal Mint is a limited company owned by HM Treasury in Llantrisant, Wales. It is a government-owned coin mint that produces all the coins in the UK.
The Royal Mint is the oldest company in the UK and is over 1,100 years old.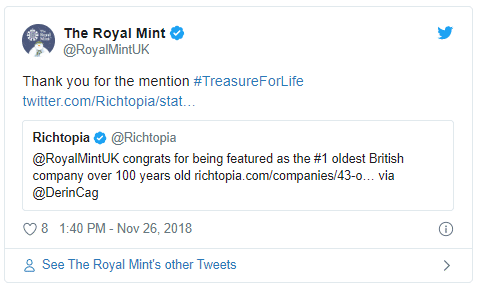 2. Trinity House (Founded: 1514)
Trinity House is a Royal Charter private corporation that performs three functions.
It provides maritime aids like lighthouses and communication systems, offers deep-sea pilotage, and is responsible for cadet training, promotion of sea safety, and the welfare of retired seamen.
It is not common knowledge that the full name of Trinity House is:
'The Master, Wardens, and Assistants of the Guild Fraternity or Brotherhood of the most glorious and undivided Trinity and St. Clement in the Parish of Deptford Strond'.
Trinity House, founded in 1514, was first commanded by Sir Thomas Spert.
Interestingly, Thomas Spert was also the sailing master of Henry VII's famous flagship, Mary Rose.
During WWII, Trinity House provided over 3,000 ships and 2,000 vessels, along with 200+ pilots working 24/7 to help the United Kingdom during the months around D-DAY according to the Trinity House History blog.
When asked for a comment on this article, a Trinity House spokesperson said:
We work hard to ensure that we are valued as much for our work today as for our reputation earned over five centuries of service."
The Trinity House building in Tower Hill gets regular features in top British blockbuster movies including Skyfall (007) and Johnny English.
3. The Royal Mail (Founded: 1516)
The Royal Mail provides mail collection and delivery services across the UK.
In 1516, King Henry VII established the Master of the Posts position. This simple act was what marked the beginning of the rich history of the Royal Mail.
In 1603, King James VI established the royal postal service. This historical company was later made available to the public in 1635 by King Charles I as the Royal Mail.
In 1710, the Master of the Posts position got renamed to Postmaster General.
It is not commonly known, but every mail-carriage during the 17th & 18th centuries had an armed guard carrying a blunderbuss and two pistols.
Over the past 500+ years, The Royal Mail went from using horses and carriages to ships, railways, cars, and planes for their postal system.
The Royal Mail even had 22,000 pigeons in employment during the early 20th Century, to get messages around, according to a press release by the company.
Throughout the years, many depictions of the Royal Mail's assets, such as their post-boxes, mail-coaches, and delivery-vans, got showcased in the arts industry.
One example of this is within British animations and films, including Postman Pat and Harry Potter, to name two.
The Royal Mail was government-owned until 2013 when most of its shares were made public in the London Stock Exchange. The government still kept 30% equity until that stake was also sold-off in 2015.
4. Cambridge University Press (Founded: 1534)
Many people do not know that Cambridge University Press is the world's oldest publishing company. It is also the second-largest university press in the world, only second to Oxford University Press.
Another interesting fact is that Cambridge University Press is also the official printer of Queen Elizabeth II. It is responsible for producing all official documents issued by the Queen in Council and ministers of the crown.
Cambridge University Press is a robust department of the University of Cambridge with offices in over 40 countries.
5. Oxford University Press (Founded: 1586)
Since its formation in 1586, the Oxford University Press (OUP) has always been part of the University of Oxford, governed by 15 specially appointed academics called the delegates of the press.
The soft-power and endeavours of the OUP are among the main reasons that most of the world uses the English language today.
The OUP is also the UK government's most-trusted source for printing secret documents.
Another interesting fact about the OUP is that it is the world's largest university press.
It is also the second oldest, following Cambridge University Press.
At the time of writing, the OUP publishes over 6,000 new titles each year.
It is also exempt from income and corporate tax in most countries because of its status as a charitable organisation in some territories.
6. The London Gazette (Founded: 1665)
Having been first published in 1665, the London Gazette is the oldest continuously published English newspaper in the world.
It is one of the official newspapers of the UK government, along with the Edinburgh Gazette and the Belfast Gazette.
It is, however, the most essential such paper, and most of the UK's statutory notices must get published in it.
However, since it does not have conventional news, it does not enjoy an extensive circulation.
7. Hoare's Bank (Founded: 1672)
Hoare's Bank is the oldest bank in the UK and the fourth oldest in the world, founded by Sir Richard Hoare in 1672.
Many people do not know that 11 generations later, it is still fully family-owned and managed by Hoare's direct descendants.
Hoare's Old Banking House from a Drawing by Shepherd 1838 in the Crace Collection London
At the time of writing, C. Hoare & Co is a private bank with two branches, one at 37 Fleet Street and the other at 32 Lowndes Street in London.
It caters almost exclusively to high net worth individuals.
8. Barclays (Founded: 1690)
Barclays was established by John Freame and Thomas Gould in 1690 on Lombard Street, London.
In 1728, they relocated to Lombard Street and adopted the spread eagle logo.
In 1736, James Barclay, John Freame's son in law became a partner and later lent his name to the company.
At the time of writing, Barclays is a significant multinational investment and financial services corporation.
9. Coutts (Founded: 1692)
Coutts was founded in 1692 by John Campbell.
It started life as a goldsmith's shop in Strand, London. By the time of Campbell's death in 1712, it was an operational bank. After his death, his son-in-law took over the business.
However, after the death of Campbell's son in law in 1747, Campbell's son, George, took over control of the business once more.
At the time of writing, Coutts is a wealth manager for the very rich, famous and influential.
The British Royal Family is one of the most notable clients of Coutts. To give you an idea of how exclusive their clientele is, to become a client, people need to have at least £1 million in investable assets, not including real estate.
And this is just one of their many stringent requirements.
10. Twinings (Founded: 1706)
Thomas Twining opened Britain's first tea room at 206 Strand in London in 1706, and Twinings was born.
Interestingly, the company still operates from the same premises to this day. In addition to being a legacy company, Twinings is also the longest-standing ratepayer in London as a consequence.
Another interesting fact about Twinings is that its logo, which got created in 1787, is the world's oldest continuously used company logo.
Twinings is also famous for its ethical programmes, through which it actively tries to improve the quality of life of tea-producing communities. It won the National CSR Award in 2017.
Twinnings is Britain's oldest tea company.
11. Fortnum & Mason (Founded: 1707)
In 1707, tea was Britain's favourite drink. It is at this time that Fortnum & Mason came into the scene offering Black Bohea tea.
This discovery cemented their hold on the market, almost instantly making them one of the nations leading tea retailers.
In the years that followed, they continually built their reputation, becoming famous for being quality food suppliers.
At the time of writing, Fortnum and Mason has kept most of its business strategy and remains an upmarket department store with its headquarters in Piccadilly, London.
12. Wedgwood (Founded: 1759)
The Wedgwood company was founded in 1759 by Josiah Wedgwood.
He was the youngest son of Thomas Wedgwood, a potter in Burslem, Staffordshire, England.
Josiah learned the trade in the family pottery works under his eldest brother, Thomas, before moving on to become an independent potter in 1759.
The Wedgewood brand caught on when King George III and his consort, Queen Charlotte, began supporting regional companies to boost Britain's economy.
They even gave Wedgwood exclusive rights to use the word "Queensware" to promote his Chinaware. Or did you presume competition with China was something new? 🙂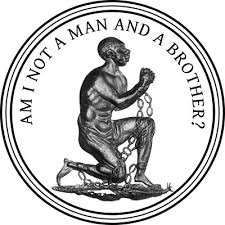 During the 18th Century, Josiah Wedgwood was one of the most prominent public-figures supporting the end of slavery. He spearheaded the "Am I Not A Man And A Brother?" movement, which helped create mass awareness for the cause at the time.
Wedgwood's activism even inspired Benjamin Franklin, who was a former slave-owner, to strengthen his support for abolition.
Josiah Wedgwood is also Charles Darwin's grandfather. The wealth inherited from the Wedgwood dynasty provided Darwin with the foundation to come up with his notions such as the 'Theory of Evolution'.
At the time of writing, Wedgwood is a leading fine-china and luxury accessories maker and distributor.
Wedgwood got acquired by a Finnish company called Fiskars Corporation in 2015.
13. Lloyds Bank (Founded: 1765)
John Taylor, a button maker, and Sampson Lloyd II, a Quaker iron producer, were the founders of Lloyds Bank in 1765.
They set up a private banking business in Dale End, Birmingham. It has expanded over the years, becoming one of the four biggest UK banks.
In the late 20th century, Lloyds Bank experienced the most elaborate bank heist in British history, dubbed the Baker Street robbery of 1971.
In 2008, a movie featuring Jason Statham called 'The Bank Job' got released as a real-life depiction of the crime.
At the time of writing, Lloyds Bank is a massive retail and commercial bank with branches across the UK.
It is the largest retail bank in Britain, with over 16 million customers and accounts.
14. The Times (Founded: 1785)
The Times first published in 1785 under the name "The Daily Universal Register".
It was founded by John Walter, who was a publisher. The name changed to "The Times" at the beginning of 1788.
A little-known fact about it is that The Times was the first newspaper to use that name.
Papers such as the New York Times later borrowed the name and adopted it as their own.
Another interesting fact is that The Times also invented the Times New Roman font, which is one of the most popular Latin fonts in the world.
15. The Observer (Founded: 1791)
The first edition of the Observer got published on 4th December 1791 by WS Bourne. He started the newspaper, hoping to profit quickly from it and become a wealthy man.
Sadly, by 1794, he was broke and in debt, trying to sell off the Observer to whoever was willing to buy it. There were no takers at the time.
The first-ever issue of The Observer, 4th December 1791.
At the time of writing, the Observer is the world's oldest Sunday Newspaper.
The Observer was acquired by Guardian Media Group Limited in 1993 and continues to publish articles with a socially liberal view of most issues.
16. Schroders (Founded: 1804)
Johann Heinrich Schroder founded Schroders in 1804 in London.
It first offered its shares on the London Stock exchange in 1959. However, the Schroder family retains a large number of shares, controlling about 48% of the company's ordinary shares.
At the time of writing, Schroders is responsible for the day-to-day management of assets worth over £450 billion.
Its clientele includes corporations, insurance companies, local authorities, charities, pension funds, and individual investors.
17. Rothschild Bank (Founded: 1811)
The history of the Rothschild Bank is an interesting one.
Mayer Amschel Rothschild was one of the most powerful bankers in the world by the end of the 18th Century.
He wanted to expand his business even further, so he appointed his sons to start banking operations across Europe.
One of these sons was Nathan Meyer Rothschild, his third son, who got sent to England.
He set up a banking business in London in 1811 called the N M Rothschild & Sons Limited. It is now known as the Rothschild Bank.
At the time of writing, the full control over the Rothschild bank is still in the hands of the Rothschild family, and it is the seventh oldest bank in the UK.
The financial advisory arm of the Rothschild bank personally advises the British Monarchy.
18. British Gas (Founded: 1812)
British Gas, the largest energy supplier in the United Kingdom, was founded in 1812 by Frederick Albert Winsor.
Over the last 200 years plus, it has continued to expand and offer energy services to both households and companies in the UK.
Most people are familiar with the name British Gas but have no clue that Centrica owns the company.
Even though British Gas is an ancient company, it got rated by The Sunday Times as one of the best companies to work for in a previous edition.
19. The Guardian (Founded: 1821)
John Edward Taylor founded The Guardian in 1821.
The timing was two years after the Peterloo Massacre and John Edward Taylor's main reason for starting the paper was to promote political reform.
The first issue of the Guardian appeared on 5th May 1821.
It started as a weekly, but as it increased in popularity, it started being published twice weekly and finally became a daily in 1855.
Here is a copy of the front page of the first edition of the Guardian, published on 5th May 1821
One of the most significant figures in the history of the Guardian was Charles Prestwich Scott, the grandson of John Edward Taylor.
He became the paper's editor in 1872 and transformed the formerly regional paper to a national newspaper.
He was a highly principled journalist and hired carefully selected gifted journalists who made significant contributions to the paper, increasing its reputation.
At the time of writing, the Guardian is one of the country's most influential papers.
Some of its biggest scoops include the 2011 phone hacking scandal, the 2013 PRISM surveillance program scandal, and the Panama Papers scandal in 2016.
20. Cadbury (Founded: 1824)
Cadbury was founded in 1824 when John Cadbury opened his grocer's shop in Birmingham. Being a Quaker, he sold only tea, coffee, cocoa, and drinking chocolate.
Cadbury's little shop grew in popularity so much that only seven years later in 1831, he was able to rent a warehouse in Crooked Lane, in the centre of Birmingham. He began producing cocoa and chocolate there.
When the company's former factory got too small in the 1870s, George Cadbury had a new vision of the future:
Why should an industrial area be squalid and depressing? Cadbury asked. Why should not the industrial worker enjoy country air and occupations without being separated from his work? If the country is a good place to line-in, why not to work in?."
The Cadbury business prospered at its new site at Bournville, and the company became famous for the advances in working conditions and social benefits for its workforce.
Recreational facilities at Bournville were numerous, and the company also arranged worker outings to the country and education schemes. This innovativeness was more than a century before tech giants made having fun at work famous again.
Cadbury employed women workers going right back to the 1850s. It was somewhat unique in promoting women to forewomen – most firms did not appoint women to these positions before World War I.
When Cadbury moved from Bridge Street to Bournville in 1879, it employed 140 women out of a total of 230 workers.
The recipe to Cadbury's 'Dairy Milk' chocolate remains a top-secret under lock & key by the company.
At the time of writing, Cadbury is one of the most popular chocolate brands in the world.
21. Clarks (Founded: 1825)
Clarks had very humble beginnings.
James Clark made the first pair of Clarks in 1825 in the village of Street in Somerset, England. He used offcuts from his brother Cyrus' tannery to create a sheepskin slipper.
Within a year, the brothers were selling 1,000 pairs a month.
At the time of writing, C & J Clark International Limited has over 1,000 stores around the world.
They also sell their products through third-party distributors. The Clark family owns 84% of Clarks.
Employees and other institutions hold the additional 16%.
22. Harrods (Founded: 1834)
In 1834, Charles Henry Harrod established a wholesale grocery shop in Stepney.
He moved the business to Hyde Park in 1851.
After Harrod's son took over, the business thrived and expanded, selling medicines, perfumes, fruits, vegetables, and stationery.
By 1880, Harrods had acquired all the adjoining buildings and employed more than 100 people.
It is a small known fact that Harrods introduced the first "moving staircase" (escalator) to England, within their department store in 1898 – even before the London Underground.
In an interview with Retail Gazette, Sebastian Wormell, the Archivist at Harrods said:
Harrod himself could've done what Sainsbury's did and opened stores all around London,… But instead, he turned the one shop into a bigger, more general store. And later when it grew into the department store, it is today they made the decision to keep it as only one… Harrods is aware of having this long history and heritage. Some other businesses in the past may have got into problems because they were stuck in the past, but Harrods has always been moving forward… It's always been run by people who are very aware of all the business trends."
At the time of writing, Harrods is a luxury department store in Knightsbridge, London.
Each year the store receives more than 20 million visitors and turns-over more than £1 billion.
With a 5 acre site and over 1.1 million square feet of retail space, it is the largest department store in Europe with over 330 departments across seven floors.
23. Winkworth (Founded: 1835)
Winkworth was established in 1835 by Henry Winkworth.
The Winkworth family ran the business exclusively until the early 1960s when it got purchased by Mann & Co. Simon Agace acquired the company in 1974. By 1981, Winkworth was officially a franchise with ten offices.
In 2004, Simon Agace stepped aside and let his son Dominic take over. By then, Winkworth had over 25 franchised offices.
A little-known fact about Winkworth is that it was the first estate agency to get franchised in the UK.
At the time of writing, Winkworth has over 91 franchised offices in Britain, France, Portugal, and Spain.
24. Tetley (Founded: 1837)
Tetley was founded in 1837 by two brothers, Joseph and Edward Tetley.
The two brothers were successful tea sellers who set up the Joseph Tetley and Co. tea merchants in 1837, before relocating to London in 1856.
Tetley was the first company in the UK to sell tea in tea bags in 1953.
The Guardian recently documented Tetley and its parent company Tata Global Beverages using modern-slaves in India, including children, within their supply chain.
In Tetley's Tea Report 2017, Graeme Karavis, Managing Director at Tata Global Beverages, states that:
As a nation, Britain has been built on tea… It seems anything can be solved over a cuppa, and tea remains a much-loved beverage of choice, enjoyed by millions."
At the time of writing, Tetley is the largest tea company in the UK and Canada and the second largest in the US.
They operate in 40 countries, making them the second largest tea manufacturer in the world.
Tata Global Beverages, an Indian company, owns Tetley.
25. Bassett's (Founded: 1842)
Bassett's was founded in Sheffield by George Bassett in 1842.
It was run exclusively by Basset's descendants until 1929 when it got listed on the London Stock Exchange.
In 1989, the company got acquired by Cadbury-Schweppes for £91 million.
Here is a fun little-known fact about Bassett's: Their most famous sweets, the Liquorice Allsorts, was created by accident in 1899!
At the time of writing, Bassett is a Cadbury brand, owned by Mondelez International.
26. Pearson (Founded: 1844)
Pearson has had a history of drastic changes.
It was founded in 1844 by Samuel Pearson as a building and construction company in Yorkshire.
His grandson, Weetman Dickinson Pearson, took over control of the company in 1880. In 1890, Weetman moved the business to London and turned the company into the world's largest construction company.
In 1920, Pearson switched to publishing, ending their construction business.
At the time of writing, Pearson is the largest education companies and book publishers in the world.
27. The Co-op (Founded: 1844)
The Co-op was established in 1844 as the Rochdale Society of Equitable Pioneers. It was the first company to introduce the business concept of dividend sharing.
By 1872, it became known as the Cooperative Wholesale Society, or CWS for short. It was owned entirely by the cooperatives it traded within Great Britain.
The Co-op actively takes part in Corporate Social Responsibility programmes and employs 1,000 apprentices at any one time.
On August Bank holiday 2018 alone the Co-op sold 2m sausages – enough to wrap around Wembley Stadium 300 times. The Co-op sold enough burgers this summer to build a tower higher than Mount EverFounded:
Another interesting fact about the Co-op is that their Insurance Tower in Manchester has the most extensive vertical array of solar panels in Europe.
The Co-op Funeralcare directed Coronation Street's Hayley Cropper's funeral which included a summer-themed coffin.
The Co-op at the time of writing is the largest consumer cooperative in the UK, operating more than 2,500 convenience stores, and has more than 4.6 million active members.
28. Boots (Founded: 1849)
Boots was founded in 1849 by John Boot as a small family herbal medicine shop in Nottingham.
John Boot died in 1860 and his son, Jesse Boot, then only aged 10, took over helping his mother run the family business. By 1883, the company got incorporated as Boot and Co. Ltd.
For ibuprofen, Boots Research Department was awarded the Queen's Award for Technological Achievement in 1985. Stewart Adams, who was a central part of a team from Boots which developed the painkiller, received an OBE in 1987.
At the time of writing, Boots UK is one of the most significant health and beauty retailers in the United Kingdom, with over 2,485 stores across the UK. Apart from health and beauty products, Boots also provides optician and hearing care services.
When asked about the secret to their long-term success, the President & Managing Director of Boots UK, Seb James, said:
For almost 170 years, Boots has been a loved and a trusted staple of the British high street, remaining true to the ideals of its founder to provide affordable healthcare for the community. This philosophy and heritage are still integral to our business today, and our brand is shorthand for quality, trust, and accessible prices.

Pharmacy and Healthcare have always been at our core, and we continue to invest in improved technology to make our pharmacies simpler and enable our pharmacists to have even more time to focus on delivering great care. Digital healthcare will be critical to meeting future patient needs. Whether it's trialling and introducing new services, like our Mole Scanning Service, that help us take control of our health, or developing new product brands that help make our customers feel good, such as recent launch YourGoodSkin, we are always looking for better ways to serve our customers.

As part of a global pharmacy-led, health and wellbeing enterprise Walgreens Boots Alliance, our vertical integration grants us unique access to knowledge, expertise and additional growth opportunities. From our R&D to our distribution network and our huge store footprint, we have an in-depth understanding of customers and the ability to react quickly to changing needs. It all starts with customer insight from our Boots Advantage Card, one of the largest loyalty schemes in the UK, which helps us to see what our customers are buying, how well a new product is received and the potential for it to grow in the market. It also allows us to offer a leading range of own brands like No7, Soap & Glory, Botanics and Liz Earle that meet the needs of our wide customer base.

Boots UK's recipe for long-term success and longevity is not really a secret… it's a matter of staying true to our values and remaining relevant to our customers by responding to their changing needs." (Seb James, Managing Director of Boots)
29. Fox's Biscuits (Founded: 1853)
Fox's Biscuits was founded in 1853 by Michael Spedding.
He started the company as a small bakery selling what he called "eatables" at feasts and fairs in northern England. It had humble beginnings in 17 Whitaker Street in West Yorkshire, which is a small terraced house.
When Michael Spedding's daughter married Fred Ellis Fox in the late 1800s, the name of the company got chosen. Interestingly, not named after its founder Spedding.
At the time of writing, the company gets recognition for its mass-market biscuits, chocolate-covered biscuits, and sports biscuits.
30. Burberry (Founded: 1856)
Burberry was founded in 1856 by Thomas Burberry.
He was a former drapers apprentice in Basingstoke, England.
However, he was not satisfied with what outwear the market had to provide, so he started experimenting with fabrics.
These experiments led to the mastermind creation of many materials, most of which he trademarked and patented.
The Burberry knight logo got trademarked in 1909.
It represents the protection that the wearer will get from wearing Burberry. The knight is also a symbol of chivalry and their high standards of integrity.
Burberry's Latin motto "Prorsum" means "Forward", representing how the company aims to innovate and be a leader in fabrics and styles.
At the time of writing, Burberry is one of Britain's leading luxury fashion houses, world-famous for its trench coats, fashion accessories, and cosmetics.
Burberry has over 500 stores in more than 50 countries.
31. Rowntree's (Founded: 1862)
Rowntree's was established in 1862 in York.
It converted to a public company in 1897 under the chairmanship of Joseph Rowntree.
Right from the start, it was one of the major players in the country's cocoa, chocolate and confectionery manufacturing industry.
According to Robert Fitzgerald from the London School of Economics:
[Rowntree's] became one of the country's principal cocoa, chocolate, and confectionery manufacturers, part of a Quaker industrial triumvirate which also included the rival firms of Cadbury and Fry. The commitment of Joseph Rowntree and his son, Benjamin Seebohm, to fair employment and company welfare policies, are well documented, but the reasons underlying Rowntree's emergence as one of the world's largest confectionery makers have been left largely unexplained."
In Fitzgerald's opinion, the central source of Rowntree's success lies in its marketing strategy.
Rowntree's sweet packets and ads from 1928.
Rowntree's biggest competitors, Cadbury's and Fry's – also founded by Quaker's, were their biggest problem, especially in the years between 1921 and 1930.
The aggressive advertising techniques of their competitors almost pushed them out of business entirely.
However, their best strategy was opting to increase their sales by marketing to North American countries, where there was less competition.
Furthermore, Cadbury's and Fry's had decided that it was impossible to sell to those countries, which only challenged Rowntree's to prove them wrong.
In 1988, Rowntree's got acquired by Nestle.
At the time of the acquisition, it was the fourth largest confectionery manufacturer in the world.
32. Next (Founded: 1864)
In 1864, J Hepworth and Son got established in Leeds, England as a gentleman's tailor.
Hepworth acquired Kendalls, a group of rainwear shops in 1981.
They then developed Next as a womenswear group of stores, opening the first store in 1982.
In August 1984, Next for Men got launched.
At the time of writing, Next is a British multinational retailer specialising in clothing, footwear, and home products.
Next has over 700 stores across Europe, Asia, and the Middle East.
33. Sainsbury's (Founded: 1869)
Sainsbury's was founded in 1869 by James and Mary Ann Sainsbury.
It began as a small shop that sold milk, eggs, and butter-based in Drury Lane in London.
Sainsbury's is confidently innovative.
They often get credited with being among the earliest adopters and developers of self-service in the 21st Century.
Sainsbury's also introduced the modern supermarket concept.
In 1992, Sainsbury's was the UK's most profitable retailer, making over £628 million in profits during 2018/19.
34. Holland & Barrett (Founded: 1870)
Holland & Barrett was formed in 1870 by Alfred Slapps Barrett and Major William Holland.
It began as a grocery store selling groceries and clothing. Later, the business developed into two shops: a grocery store and a clothing store.
At the time of writing, Holland & Barrett is a large chain of health food shops with more than 1300 stores in 16 countries.
In June 2017, Holland & Barrett was sold to Russian company L1 Retail for £1.8 billion.
35. Marks & Spencer (Founded: 1884)
Marks and Spencer (M&S. started as a market stall in Leeds by a polish refugee called Michael Marks).
He later met Thomas Spencer, a former cashier, and went into partnership with him.
When asked for a comment on this article, an M&S spokesperson said:
In 1884 Marks & Spencer started as a Penny Bazaar stall in Kirkgate Market, Leeds. Today we have 1,463 stores worldwide employing more than 80,000 people. From the first machine washable wool to implementation of the cold chain process to allow the sale of fresh, chilled chickens to be sold in stores for the first time, M&S has developed a number of leading innovations in the last century which have dramatically changed the face of retail."
M&S' flagship store opened at Marble Arch, London, in 1930.
Initially located in the basement and ground floor of a newly-erected office block, the store has since expanded to encompass four storeys and is a prominent Oxford Street landmark.
In the 1930s M&S began selling grapefruits – an almost unknown fruit in the UK. They came with instructions explaining how they should be prepared and eaten.
In 1959 M&S became the first retailer to introduce 'No Smoking' rules in its stores.
The ready-prepared Chicken Kiev got launched in 1979, the first of its kind. Now M&S sells 22,000 Chicken Kievs each week in the UK.
M&S was the first British retailer to set up its research lab to pioneer new products in 1934.
M&S was also the first retail adopter in the UK of the all-new online shopping capabilities in 1999 that came after the internet.
36. Hovis (Founded: 1886)
Hovis was founded in 1886 by Richard Stoney Smith when he discovered a way to mill flour to maintain the wheatgerm.
The name Hovis came about as part of a national competition in 1890 to name the bread brand.
A student at the time, Herbert Grimes, came up with the name by combining the Latin phrase 'Hominis Vis' which means 'Strength of Man'.
In 1941 during the second world war, Hovis donated a spitfire to the RAF, naming it Hominis Vis.
Hovis is famously good at marketing and advertising.
From press adverts to posters to baking competitions to their catchy slogans.
They have used every method available to them to boost customer engagement and improve their brand identity.
For example, the Hovis' Boy on Bike' ad, aired in 1973, is one of Britain's favourite advertisements of all time.
When asked about the secret to their long-term success, a Hovis spokesperson said:
Hovis has a long tradition of goodness and innovation and has always focused on what delights consumers. It continues to delight by ensuring that every loaf is made to the highest standards and creating industry firsts, such as Hovis Best of Both®, the first white bread with the added goodness of wheat germ, and more recently the Lower Carb range, which offers 30% less carbs* than standard loaves with the same great taste expected from Hovis."
In 2005, Hovis introduced the Hovis Invisible Crust bread, which was the world's first bread that got baked without a crust.
At the time of writing, Hovis is one of Britain's most iconic brands with a rich history of bread making. It is worth over £324 million and was the fifth fastest-growing food & drink brand in 2017.
37. Yorkshire Tea (Founded: 1886)
The company was founded in 1886 by Charles Taylor and his two sons as CE Taylors & Sons.
They built a reputation by buying only the finest quality tea and blending them with local water.
Their products were so good that they won numerous awards for them, such as the London Grocery Exhibition 1896 gold medal.
In a company guide, Taylors of Harrogate wrote:
People in the UK have a very strong relationship with tea. It is one of the few things a café, restaurant or hotel can serve in which nearly every customer is already a seasoned expert. In fact, our research has found that 67% of people say they would not return to a place that served bad tea."
At the time of writing, three generations later, Yorkshire Tea is still family-owned, made by the Taylors of Harrogate.
Yorkshire Tea is the most famous tea that the company makes, although it has a host of other tea and coffee products.
38. Alliance Trust (Founded: 1888)
The Alliance Trust was formed in 1888 when three Dundee companies, the Dundee Mortgage and Trust, the Dundee Investment Company and the Oregon and Washington Trust, which operated from Dundee, teamed up.
Initially, as individual companies, their main focus was lending money to immigrant farmers in Oregon.
However, after the merger, the Alliance Trust expanded and started investing in US railway bonds, mining rights, and interest securities. In 1969, the Alliance Trust introduced the first Dividend Reinvestment Plan (DRIP).
In 2006, Alliance Trust merged with the Second Alliance Trust.
The Second Alliance Trust had a fascinating history; it came into being in 1918 when the Hawaiian Investment Company teamed up with Alliance.
They agreed to share everything, including premises, staff and administration costs while remaining two separate companies.
After 2016, however, the merger was complete, and Alliance Trust became the largest investment trust in the UK.
At the time of writing, Alliance Trust is the largest investment trust in the UK by market value.
39. The Financial Times (Founded: 1888)
The Financial Times is an English language newspaper founded by Horatio Bottomley and James Sheridan in 1888. It later merged with the Financial News, one of its closest rivals.
According to an audit conducted by PwC in 2011, the paper has an estimated worldwide daily readership of about 2.2 million people.
A little-known fact about the co-founder, Horatio Bottomley, is that he spent eleven years in prison and died in poverty six years after his release.
In a speech at a business function celebrating the 125th anniversary of the Financial Times, Mark Carney, Former-Governor of the Bank of England, said:
The FT famously set out to report 'Without Fear and Without Favour', and declared itself to be the friend of the honest financier, the respectable broker, and the legitimate speculator; and the enemy of the closed stock exchange, the unprincipled promoter and the gambling operator. Perhaps as a consequence, its initial circulation was modest."
In 2000, the company began publishing a German edition of the paper which did not do so well leading to its closure in 2012.
At the time of writing, The Financial Times is owned by Japanese company Nikkei, inc., which also happens to be over a century old.
40. Ryman (Founded: 1893)
In 1893 there was the panic on the New York stock exchange, Beatrix Potter created Peter Rabbit, and Henry Ford designed the first gasoline fuelled engine.
It was also the year that Henry J Ryman opened on London's Great Portland Street in October. An iconic road it still resides on today, even after several relocations throughout the years.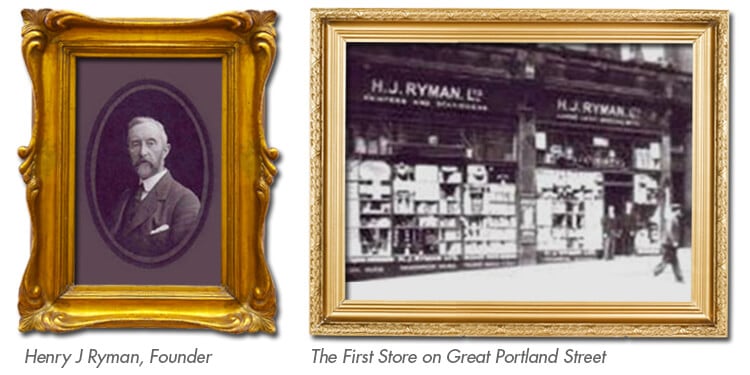 Ryman first started as a book printing business and then switched its business model to stationery selling.
In 1951, Jack Ryman passed it on to his sons, Desmond and Nicholas. In 1968, the company merged with Habitat Furniture to form Conran Ryman.
It was owned purely by the Ryman family for several generations.
Photo of Theo Paphitis opening a new Rymans shop on King's Road, London, November 2018
Another interesting fact about Ryman is that it sells over 7.8 million mls of printer ink per year – that's enough to fill 10,400 wine bottles… Cheers! 🙂
Theo Paphitis eventually acquired Ryman in 1995. When blogging about this purchase, Paphitis wrote:
In 1995 when I was looking at buying Ryman, and approaching private equity businesses and banks to raise the money, I was told it was a dog of a business; that I was absolutely mad to even look at it, let alone consider investing in it. Why? Because the paperless office was the future and no one was buying stationery anymore. I knew they were wrong then, and that's why nearly 25 years on since I bought the business out of administration, Ryman is now marking its 125th year of business and doing well. Not a mean feat in the shifting plates of the current retail marketplace and a credit to the teams in-store and across the business."
At the time of writing, Ryman trades online and has over 220 outlets in the UK.
41. Daily Mail (Founded: 1896)
It is a British tabloid newspaper that was founded by two brothers, Harold and Alfred Harmsworth in 1896.
It is the second-largest daily newspaper in the UK, coming second after The Sun.
Over the years, the company has faced racism, homophobia and sexism accusations and has also had to deal with several lawsuits filed against them.
Daily Mail first edition 1896
During her review of a book entitled 'Tabloid Century: The Popular Press in Britain, 1896 to the Present.', Dr Susanne Stoddart states:
Popular newspapers in Britain are commonly criticised for providing unsophisticated, distasteful and intrusive journalism, driven by an aggressive pursuit of exclusives and an unscrupulous desire for profit… plenty of evidence is provided to illustrate the crude focus upon sensation and scandal that has often characterised the popular press since the 1896 launch of Britain's first morning daily newspaper aimed at the mass market: Alfred Harmsworth's Daily Mail."
The worst the paper has been through is when it lost circulation in the seventies.
The Daily Mail, however, managed to weather the storm and is thriving once more.
42. Maynards (Founded: 1896)
Maynards was founded in 1896 by Charles Riley Maynard and Tom, his brother.
Before this, since 1880, the brothers were manufacturing sweets in their kitchen while Sarah Ann, Charle's wife, was selling the sweets at her shop next door.
In 1906, the company moved to Harringay and after some time expanded to other areas.
Later in 1998, the company was acquired by Cadbury.
At the time of writing, the Harringay site is a warehouse belonging to the Oriental Carpet Company.
43. Castrol (Founded: 1899)
Castrol was founded in 1899 by Charles "Cheers" Wakefield. Initially, it was called CC Wakefield & Company.
Charles Wakefield started it as a way of selling lubricants for trains and heavy machinery.
With the increased popularity of the automobile and the aeroplane, Castrol decided to shift its focus to these innovations.
The founders of Castrol had special requirements when it came to engine lubricants: the oil had to be runny enough when cold and thick enough to keep working when hot.
Wakefield and his team discovered that adding castor oil to the lubricant gave it these properties.
This creative spirit gave birth to the new product, Castrol.
Castrol's industrial grease has even made it to the Red Planet as the primary lubricant product for NASA's Curiosity rover on Mars.
At the time of writing, Castrol is a world-leading manufacturer, distributor, and marketer of lubricating oils and greases in the automotive, industrial, marine, aviation and oil industries. It employs over 7,500 people in 46 countries.
44. Typhoo Tea (Founded: 1903)
Typhoo Tea was founded in 1903 by John Sumner.
He was the first person to sell ready-packaged tea in Britain. It initially got sold as a cure for indigestion through his small apothecary.
He focused on the finest quality ingredients and health benefits, which made his product famous.
In 1968, Typhoo merged with Schweppes, and later Cadbury joined them, forming Cadbury Schweppes Typhoo.
The company, however, later sold Typhoo in 1986.
Commenting on a recent repositioning and redesign of their companies branding, Typhoo Marketing Manager Paulina Gorska, said:
We are entering a really exciting new chapter for Typhoo. The brand has such a rich heritage and, for many households, remains a trusted member of the family. Our challenge has been to remain true to our roots and character while driving cut through and relevance in a challenging market. By looking back to look forward, Typhoo is on a mission to differentiate black tea; bringing a sense of occasion and feeling of inclusivity to the category."
In 2005, Typhoo got acquired by Apeejay Surrendra Group in India for £80 million.
45. Rolls-Royce (Founded: 1904)
Rolls Royce was founded in 1904 when Henry Royce, an aero-engine designer, teamed up with Charles Rolls, a maker and seller of high-quality cars in London.
Rolls-Royce played an instrumental role in helping defend Britain from Nazi invasion during WWII.
Their aero engine technology in the 1940s was the most superior in the world, and their mass production facilities manufactured thousands of jet-engines to help the war effort.
According to Peter Pugh in his book "The Magic of a Name: The Rolls-Royce Story, Part 1″:
By the 1920s, Royce's reputation was such that he was asked, almost ordered, by the Government to design an engine for Britain… It is safe to say that, without the [Rolls-Royce] Spitfire and the Hurricane, and the [Rolls-Royce] Merlins that powered them, the Battle of Britain would have been lost."
By 1953 the company they started had become the cornerstone of global acceptance of the gas turbine in the aviation industry.
The 1950s marked the beginning of the excellent relationship between Rolls-Royce and the British royal family after the first Phantom IV was commissioned by then Princess Elizabeth II.
The Concorde, which was the world's first and only supersonic airliner, was powered by a Rolls-Royce Engine, the Snecma Olympus 593.
At the time of writing, Rolls-Royce is among the world's leading power systems providers, employing over 40,000 people in more than 50 countries.
Compiled by: Derin Cag
Inspired by: Tim Campbell MBE