Aren't you just a little bit curious?
The truth is, there are loads of lesser-known international brands that are breaking barriers, telling great stories, and doing some awesome marketing in the process.
Why not look out to the rest of the world for some marketing ideas?
Here are nine examples to help you broaden your marketing horizons and inspire your next marketing campaign.
After all, inspiration is an integral part of leadership.
1) Marimekko
The Nordics are famous for their cool designs — and Finnish fashion brand Marimekko is no exception. Big, bold, charismatic, eccentric — Marimekko patterns are instantly recognizable (and have even been worn by the Queen of England).
For such a visual brand, aesthetics are essential to great marketing — and that's where its visual marketing strategy comes in.
The Marimekko social media profiles are carefully-curated art galleries of content, products, and customers. In general, the Marimekko team is exceptional at propagating an evident and defined brand aesthetic. Every shot is artfully and tastefully set up, and there's plenty of attention paid to promoting notable customers.
For a fashion brand, visual style is everything.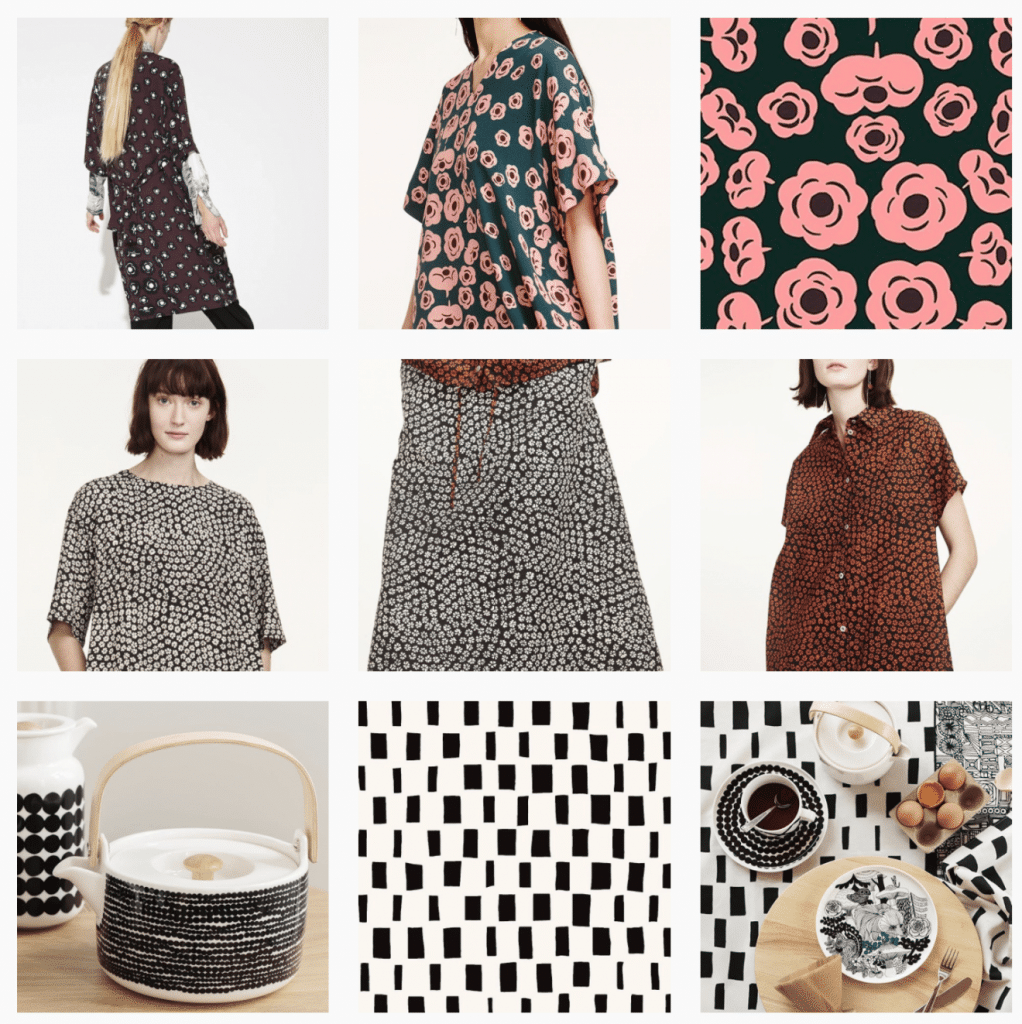 Image credit: Instagram
For anyone looking to be recognized as a luxury brand on social media, the lessons from Marimekko are:
Have a clear

visual

style that you never

compromise

on.
Use seasonal launches as tentpole activities for

social media

.
Make the most of brand loyalty and share the love with your

community

.
2) Boursin
Who knew soft cheese could be so funny? Boursin is a French soft cheese brand that has perfected the art of the viral advert. Its funny TV spots (du vin, du pain, du tracteur) gently poke fun at its tagline of "wine, bread & Boursin".
Rather than just talking about Boursin, the marketing team is very good at placing the product in context. When would you need Boursin? How do people enjoy it? What emotions are connected to eating cheese?
Continuing on the theme of situational marketing, the Boursin and Film 4 partnership is an excellent example of content collaboration. By sponsoring a popular film night, Boursin can jump in with recipes to help people make the most of a cozy night in.
The lesson — focus on context. Try to find partnerships that help broaden your marketing messaging. No one wants to be hit on the head with your service or product features for the thousandth time.
3) Red Bull
Red Bull is the biggest energy drink in the world, shifting 6.790 billion cans in 2018 through sales across the globe and the company's e-commerce store (built on Shopify Plus for enterprise scaling).
What's more, everyone's familiar with its slogan of "Red Bull gives you wings" — but you don't know everything about this brand.
Not only is it actually from Austria, having been formed there in 1987, but it's also terrific at localizing its marketing efforts. Take those charming cartoon ads, for instance. Have you ever seen any of the international versions? Instead of using the same skits for every country, Red Bull has always taken care to target regions properly.
There have been American versions, UK versions, New Zealand versions, Spanish versions (see below)…
This method is such great marketing because the voice acting is always so crisply and enthusiastically done. The lesson? If you're going to sell across countries, don't settle for generic promotions: go all-out to impress (and, if you can do it well, use humor!).
4) Suunto
Suunto (from Finland) makes compasses, watches, and other fitness devices.
As a brand, Suunto is known for its quality and durability, but Suunto has also leveraged the power of data to create a sports community around its products.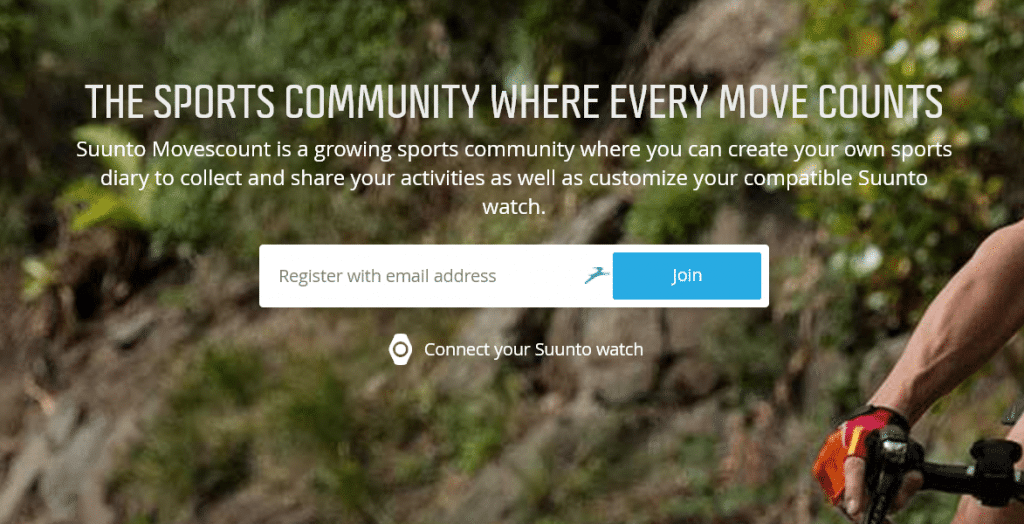 Mimicking popular sports apps, Suunto Movescount is a great tool for tracking fitness journeys and adventures. The lesson here is that you can add value to your audience through data mining, and should look beyond product marketing to community marketing.
5) Johnnie Walker
Johnnie Walker is one of the most respected whisky brands in the world. Hailing from Scotland, Johnnie Walker has galvanized its marketing around a powerful concept and phrase: "keep walking".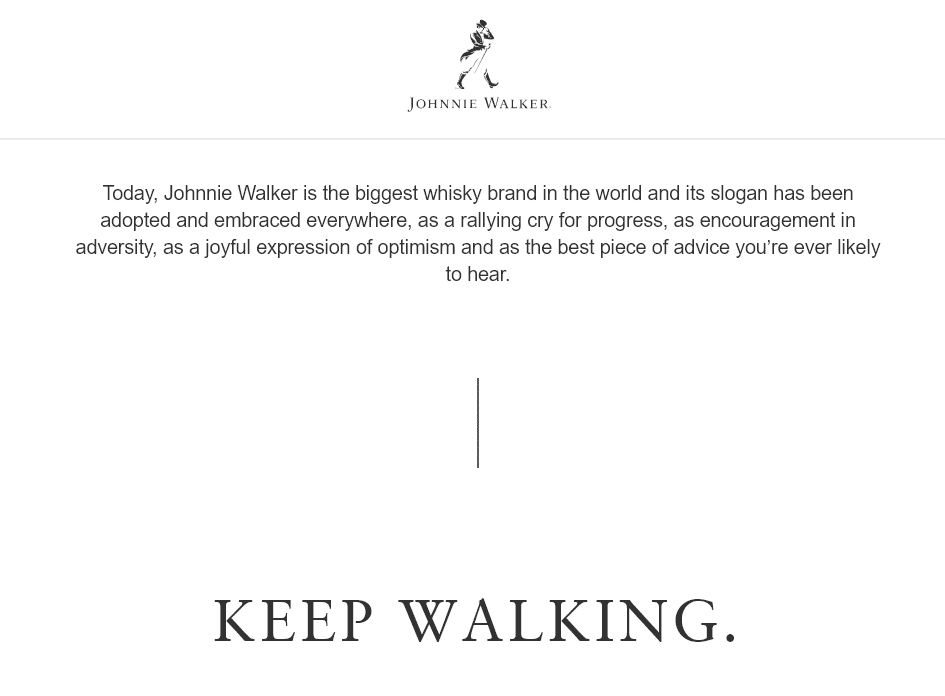 Image credit: Johnnie Walker
Simple, emotive, and direct — keep walking crystallizes what Johnnie Walker is all about.
The concept has allowed the brand to embrace the power of storytelling, and is at the heart of its poignant Keep Walking Colombia campaign:
Raw, powerful, and with a message about unity — campaigns like this show a brand that is not afraid to take a stance. It's the perfect renegade attitude for a Scottish whisky brand.
6) EE
EE is a British telecom provider (started in 2010 as a joint venture between a French and German company, and acquired by the BT Group in 2016). EE has the largest 4G network in Europe.
EE has 100% embraced the power of the celebrity endorsements with its enduring partnership with Kevin Bacon. The wacky adverts riff off the concept of "Six Degrees of Kevin Bacon" — an idea that has its roots in a 1994 interview.
Check out Kevin in EE action in 2012:
Celebrity marketing is all about charisma and alignment. You can't just go out and buy star power and expect the sales to start pouring in. You need to have devised a coherent strategy and found a way to mesh their story with yours.
(On a smaller scale, social media influencers can have the same impact on your brand as a celebrity).
7) Uniqlo
This utilitarian Japanese clothing brand is always advertising on Facebook — but it's not about chasing trends for Uniqlo. Uniqlo's CEO is very adamant that not chasing trends is the key to his success.
Uniqlo is excellent at what it does, and it likes to keep it simple, taking solid concepts and using them through its stores, ads, and styles. Classic tees and quality cotton take precedence over loud prints and seasonal fads.
8) Tusker
This African beer brand from Kenya likes to make the most of its quirky origin story. (Hint: it's something to do with elephants). What a way to capitalize on your brand history! Stories like that are great for PR.

Tusker has been clever about going wholesale, meaning that they also now retail in Europe. Even in a continent literally awash with beer, the novelty of testing out Kenyan brew is bound to pull in the curious shoppers.
Coupled with a clean and contemporary style and vision, this brewery is excellent at mixing heritage with commercial realities.
9) T2
Aussie tea brand T2 has a fantastic concept — selling all sorts of exciting tea blends packaged in vibrant cubes. The stores are a visual feast, with an abundance of tea accessories and the latest tea tech.
To hook customers for life, T2 has created an impressive email value proposition — the T2 Tea Society: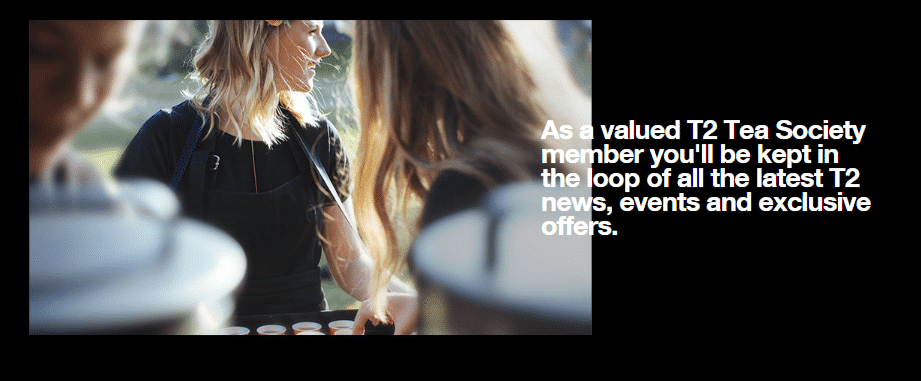 Once you sign up for their mailing list, you instantly access a whole range of perks and insider tips: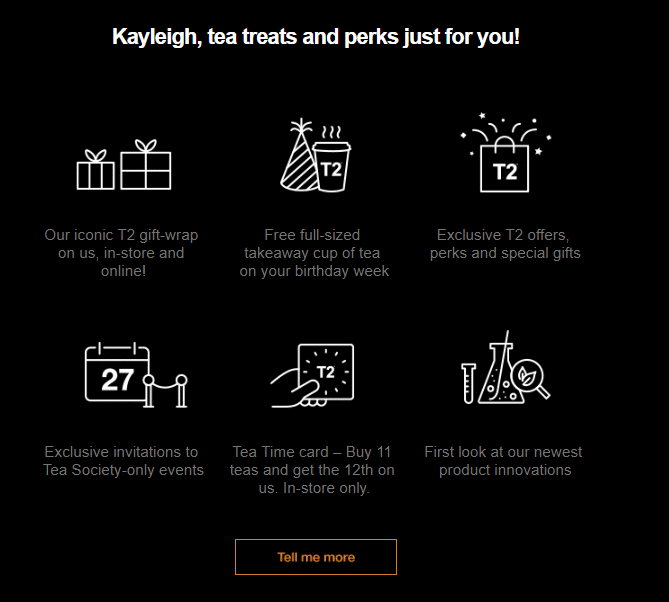 Loyalty programs like these are easy to implement using email automation workflows and tools, so look for innovative ways to distribute perks and offers to your loyal customers.
It's essential to broaden our horizons and think outside of the box from time to time. Just focusing on the likes of Netflix and Airbnb leaves out a whole world of exciting ideas and stories. As marketers, we must always remember to cultivate curiosity.