Napoleon Hill biography, facts, and quotes.
Napoleon Hill (26 October 1883 – 8 November 1970) was an American author who was one of the earliest producers of the modern genre of personal success literature.
Life and works:
Hill was born in a one-room cabin near the Appalachian town of Pound in Southwest Virginia.
His parents were James Monroe Hill and Sarah Sylvania (Blair) and grandson of James Madison Hill and Elizabeth (Jones). His grandfather came to the United States from England and settled in southwestern Virginia in 1847.
Hill's mother died when he was nine years old, and his father remarried two years later.
At the age of 13, Hill began writing as a "mountain reporter", initially for his father's paper. He later used his earnings as a reporter to enter law school, but soon withdrew for lack of funds.
Who inspired Napoleon Hill?
Hill wrote that the turning point in his life had been a 1908 assignment to interview the industrialist and philanthropist Andrew Carnegie (d. 1919). In 1908, Carnegie was among the most powerful men in the world.
Hill wrote, after Carnegie's death, that Carnegie had actually met with him at that time and challenged him to interview wealthy people to discover a simple formula for success, and that he had gone on to interview many successful people of the time.
The acknowledgements in his 1928 multi-volume work The Law of Success, listed 45 of those he had studied, "the majority of these men at close range, in-person", like those the book set was dedicated to, Andrew Carnegie, Henry Ford, and Edwin C. Barnes (an associate of Thomas Edison).
Hill reported that Carnegie had given him a letter of introduction to Ford, whom Hill said had then introduced him to Alexander Graham Bell, Elmer R. Gates, Thomas Edison, and Luther Burbank.
According to the publishers, Ralston University Press (Meriden, Conn.), endorsements for The Law of Success were sent in by William H. Taft, Cyrus H. K. Curtis, Thomas Edison, Luther Burbank, E.M. Statler, Edward W. Bok, and John D. Rockefeller.
The list in the acknowledgements includes, among those Hill wrote that he had personally interviewed, Rufus A. Ayers, John Burroughs, Harvey Samuel Firestone, Elbert H. Gary, James J. Hill, George Safford Parker, Theodore Roosevelt, Charles M. Schwab, Frank A. Vanderlip, John Wanamaker, F. W. Woolworth, Daniel Thew Wright, and William Wrigley, Jr.
Spirit visitations:
In his declining years, Hill openly described visits from spirits in Chapter 12 of his book, Grow Rich! With Peace of Mind (1967). He described them as unseen friends, unseen watchers, strange beings, and the Great School of Masters that had been watching over him, and who maintain a "school of wisdom".
Hill states that the "Master" spoke to him audibly, revealing secret knowledge. Hill further insists that the Masters "can disembody themselves and travel instantly to any place they choose in order to acquire essential knowledge or to give knowledge directly, by voice, to anyone else." Grow Rich! With Peace of Mind was heavily influenced by Hill's spirit voices; Hill cites the "Master", saying, "Much of what he said already has been presented to you in the chapters of this book or will follow in other chapters.."
Hill's spiritualism was influenced by his negative experience of organized religion as a child. Until very late in life, Hill lived a nonsectarian Judeo-Christian perspective.
The

philosophy

of achievement: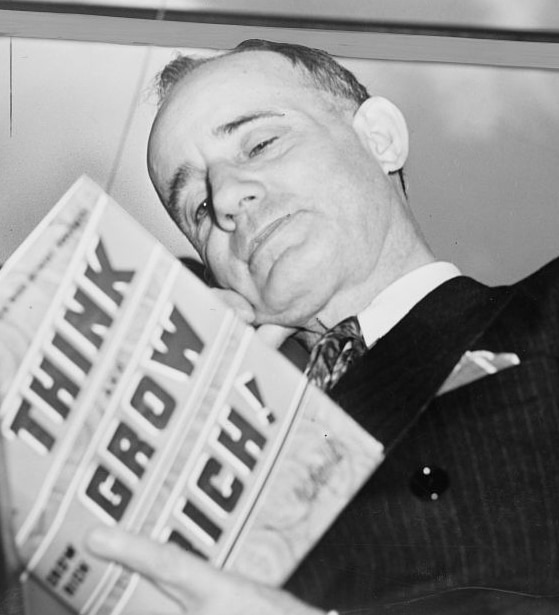 Hill's "Philosophy of Achievement" was offered as a formula for rags-to-riches success, published initially in 1928 in the multi-volume study course The Law of Success, a re-write of a 1925 manuscript(finally published in 2011).
The formula was detailed further for home-study courses, including the seventeen-volume "Mental Dynamite" series ending in 1941.
Hill identified freedom, democracy, capitalism, and harmony among the foundations of his "Philosophy of Achievement". He asserted that without these foundations, personal achievements would not be possible. He claimed his philosophy was superior to others, and that its principles were responsible for Americans' successes. Hill blamed failure on such emotions as fear and selfishness.
A "secret" of achievement was tantalisingly promised to readers of Think and Grow Rich, but Hill insisted readers would benefit most if they discovered it for themselves. Although he did not explicitly identify this secret in the book, he offered, 20 pages into the book:
"If you truly desire money so keenly that your desire is an obsession, you will have no difficulty in convincing yourself that you will acquire it. The object is to want money, and to be so determined to have it that you convince yourself that you will have it. . . You may as well know, right here, that you can never have riches in great quantities unless you work yourself into a white heat of desire for money, and actually believe you will possess it."
Napolean Hill states in the introduction that the "secret" that Carnegie 'carelessly tossed it into my mind' also inspired Manuel L. Quezon (then Resident Commissioner of the Philippine Islands) to 'gain freedom for his people, and went on to lead them as its first president.' And although he mentions a 'burning desire for money' repeatedly throughout the book, he also suggests it is not, in fact, his "secret" at all.
By contrast, at the end of his first book, The Law of Success, nine years earlier, he identifies his secret as The Golden Rule: Only by working harmoniously in co-operation with other individuals or groups of individuals and thus creating value and benefit for them will one create sustainable achievement for oneself.
He presented the notion of a "Definite Major Purpose" as a challenge to his readers to ask themselves, "In what do I truly believe?" According to Hill, "98%" of people had few or no firm beliefs, which put success out of their reach.
Hill used a story of his son, Blair, who he says was an inspiration to him because although Blair was born with no ears, and though his doctor told Hill his son would neither be able to hear nor speak, Blair grew up able to hear and speak almost normally. Hill reports that his son, in his last year of college, read chapter two of the manuscript of Think and Grow Rich, discovered Hill's secret "for himself", and went on to inspire "hundreds and thousands" of people who could not hear or speak.
From 1952 to 1962, Hill taught his Philosophy of Personal Achievement – Lectures on Science of Success in association with W. Clement Stone. In 1960, Hill and Stone co-authored the book, Success Through A Positive Mental Attitude. Norman Vincent Peale is quoted saying "These two men [Hill and Stone] have the rare gift of inspiring and helping people…In fact, I owe them both a personal debt of gratitude for the helpful guidance I have received from their writings."
Think and Grow Rich remains the top seller of Napoleon Hill's books. (In 2007, Business Week Magazine's Best-Seller List ranked Think and Grow Rich as the sixth best-selling paperback business book). It is listed in John C. Maxwell's A Lifetime "Must Read" Books List.
Sales of Hill's books demonstrate the continuing appeal of the myth of a "secret" of success. Hill claimed insight into racism, slavery, oppression, failure, revolution, war and poverty, saying that overcoming these obstacles using his "Philosophy of Achievement" was the responsibility of every human.
Death:
Napoleon Hill died on November 8, 1970. While his cause of death is unknown, video footage of his later years suggests that he had Parkinsonian symptoms including pill rolling tremors.
50 Napoleon Hill quotes:
Think twice before you speak, because your words and influence will plant the seed of either success or failure in the mind of another."

You can be anything you want to be, if only you believe with sufficient conviction and act in accordance with your faith; for whatever the mind can conceive and believe, the mind can achieve."

If you cannot do great things, do small things in a great way."

Success comes to those who become success conscious."

Great achievement is usually born of great sacrifice, and never the result of selfishness."

There are no limitations to the mind except those we acknowledge, both poverty and riches are the offspring of thought."

Most great people have achieved their greatest success just one step beyond their greatest failure."

Any idea, plan, or purpose may be placed in the mind through repetition of thought."

Create a definite plan for carrying out your desire and begin at once, whether you are ready or not, to put this plan into action."

When your desires are strong enough, you will appear to possess superhuman powers to achieve."

The starting point of all achievement is desire. Keep this constantly in mind. Weak desires bring weak results, just as a small fire makes a small amount of heat." 

A goal is a dream with a deadline." 

Opportunity often comes disguised in the form of misfortune or temporary defeat." 

Whatever your mind can conceive and believe, it can achieve." 

It takes half your life before you discover life is a do-it-yourself project." 

Every adversity, every failure, every heartbreak, carries with it the seed of an equal or greater benefit." 

Everyone faces defeat. It may be a stepping-stone or a stumbling block, depending on the mental attitude with which it is faced."

If you do not conquer self, you will be conquered by self." 

It is literally true that you can succeed best and quickest by helping others succeed." 

Success is good at any age, but the sooner you find it, the longer you will enjoy it." 

Set your mind on a definite goal and observe how quickly the world stands aside to let you pass." 

You have a brain and mind of your own. Use it, and reach your own decisions."

Victory is always possible for the person who refuses to stop fighting."

If you do not see great riches in your imagination, you will never see them in your bank balance."

When defeat comes, accept it as a signal that your plans are not sound, rebuild those plans, and set sail once more toward your coveted goal."

A positive mind finds a way it can be done; A negative mind looks for all the ways it can't be done."

To be a star, you must shine your own light, follow your own path, and don't worry about the darkness, for that is when the stars shine brightest."

The ladder of success is never crowded at the top."

Patience, persistence and perspiration make an unbeatable combination for success."

The way of success is the way of continuous pursuit of knowledge."

Don't wait. The time will never be just right. Start where you stand, and work whatever tools you may have at your command and better tools will be found as you go along."

Deliberately seek the company of people who influence you to think and act on building the life you desire."

You are the master of your destiny. You can influence, direct and control your own environment. You can make your life what you want it to be." 

Strength and growth come only through continuous effort and struggle." 

Most so-called failures are only temporary defeats." 

Fears are nothing more than a state of mind." 

Our only limitations are those we set up in our minds." 

Our minds become magnetized with the dominating thoughts we hold in our minds and these magnets attract to us the forces, the people, the circumstances of life which harmonize with the nature of our dominating thoughts." 

The cause of depression is traceable directly to the worldwide habit of trying to reap without sowing." 

The more you give, the more comes back to you." 

The man who does more than he is paid for will soon be paid for more than he does." 

Think twice before you speak, because your words and influence will plant the seed of either success or failure in the mind of another." 

Some people dream of success, while others wake up and work hard at it." 

You might remember well that nothing can bring you success but yourself." 

The majority of men meet with failure of their lack of persistence in creating new plans to take the place of those which fail." 

All achievements, all earned riches, have their beginning in an idea." 

When you have talked yourself into what you want, right there is the place to stop talking and begin saying it with deeds." 

If you give up before your goal is reached you're a quitter. A quitter never wins and a winner never quits." 

There is one quality which one must possess to win, and that is definiteness of purpose, the knowledge of what one wants, and a burning desire to possess it." 

You give before you get."