How a 2×2 Matrix Can Solve Time Management Struggles: 
You'd think that, living in an era of technology-enabled efficiency like we do, it would be simple to manage our time. We have time management apps like Asana and Trello to handle deadlines, reminders, workflows and all the nitty gritty details of delegation.  But most of these solutions are focused on EFFICIENCY (doing things right), not on EFFECTIVENESS (doing the right things).
As an entrepreneur, this problem is multiplied exponentially. How and where you spend your time is more valuable than anything you have in your control. Before you ever get to automated workflows and collaborative calendars, you first need to figure out the basics of delegation.
I struggled with this topic as a young entrepreneur and tried every trick imaginable. I found myself wasting hours on tasks someone else could do better, perhaps because I enjoyed doing them. Other tasks I mindlessly handed over to others in the spirit of delegation, even though I was uniquely qualified to complete the task myself.
Unless you are acting as a sole proprietor, the challenge of balancing time management, capital utilization and strategic priorities is a never ending tug of war. And as your business starts to grow and scale, this tug of war becomes increasingly complex. You are faced with countless things to do with limited capital, time and team members.
At some point along my entrepreneurial journey—about the time that I was about to either get fired or committed to a mental institute—one of my mentors shared with me a simple four-step process based on the Eisenhower Matrix that helped me with this never-ending dilemma of time management. In fact, this exercise became an annual obsession for me (in a growth company, the CEO's job changes almost every three to four months) as I sought the optimal formula for entrepreneurial success.
Step One – Use a 2×2 matrix to figure out what you are uniquely qualified to do
First, create the following 2×2 grid, with the y-axis describing your skill (either good or bad) and the x-axis describing your passion (love or hate) and list a couple of business functions that fit in the various boxes. The key is to figure out exactly what box a particular skill should fit in.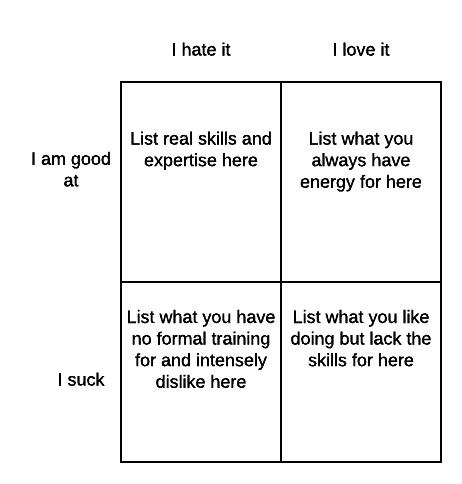 Here are the high level definitions in a bit more detail:
Upper Right – I am good / I love it: What task are you, as CEO, really good at doing? Not the things you think you are good at, but rather things that you have verifiable proof that you are uniquely qualified to complete. The key here is not only to determine what you are good at, but to assess how much you enjoy this part of your job.
Upper Left – I am good / I hate it: What are the tasks that you are actually quite accomplished at (naturally or from prior training) but bring you no pleasure? For example, I started my career as a CPA so I was actually very good at the financial part of the business, but I dreaded the annual budgeting process. The key here is to feel okay with this box too—not one loves every aspect of the job, not even the CEO.
Lower Right – I suck / I love it: This is a pretty dangerous quadrant and one that is likely the hardest to have an accurate read. Do you love engaging in deep product reviews … but flunked out of CS early on in college? Do you see yourself as a natural born sales person, but have never carried a quota in your life? Look long and hard at this box — as it is really, really is an important exercise in self awareness.

Lower Left – I suck / I hate it: Usually this seems to be an easy box to fill out, but this quadrant can be a real trap for a lot of entrepreneurs. The key is to make sure you really do suck at the function versus just don't enjoy it. It is really easy to confuse these two emotions (enjoyment versus proficiency). Challenge yourself to make sure you aren't actually quite good at something you don't enjoy or vice versa.
Step 2 – List your company's top priorities for the next six to twelve months
This should be pretty straight forward from your budget or business plan. Think of the four to five things that if completed will really move the needle for your business. Do you need 20 paying customers in the next 12 months? Is launching the next version of your product critical to moving the business forward? Or maybe your key outcome is centered around international expansion?
As a guide, these should be the tied to key metrics that you have shared with your board or that you have decided are critical for your next round of funding. Basically, your goal here is to list the four to five things that really are "make it or break it" for your business in the next 12 months. Here is an actual list I kept on my desk as a CEO—I called them the "Things That Matter" or TTM.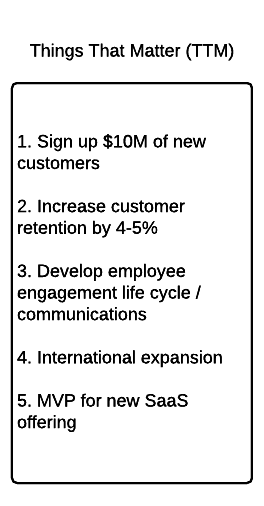 Step 3 – Compare your grid with your top priorities
Next, take a quick look at your grid. Take special note of how many of the top priorities for the business fall into the upper right quadrant of your grid. Here is an image of my grid from the early days of my CEO tenure: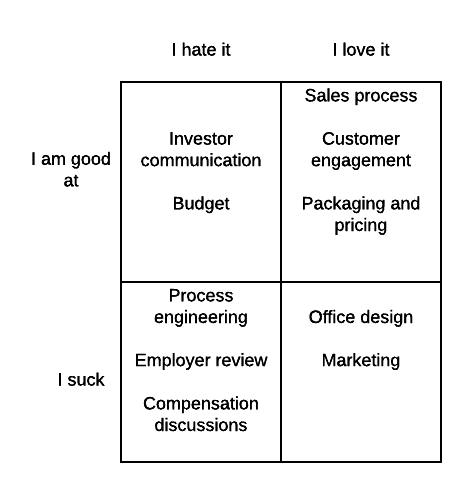 By reviewing this grid against your top priorities, you can quickly determine where the gaps are and make decisions as to what you will focus on personally. You can also see where some big gaps might be and these should be your immediate focus as it relates to your team.
If your top goal is to acquire 10 new customers, but you hate selling, you better have a great sales leader on your executive team. If not, get hiring ASAP! On the other hand, if "get MVP in the market" is your key goal and you just happen to have spent five years in Product Management at Google, chances are that you can drive this outcome without a big external hire.
Step 4 – Allocate your time based on the grid
One mantra I learned early on was another simple concept: It is far easier to use the skills you already possess than to acquire new ones. In short, spend your time playing to your strengths and hire a team to overcome your weaknesses. For the grid, this means spending as much of your time in the upper right quadrant (good, love) and building out a team for the other areas of the matrix.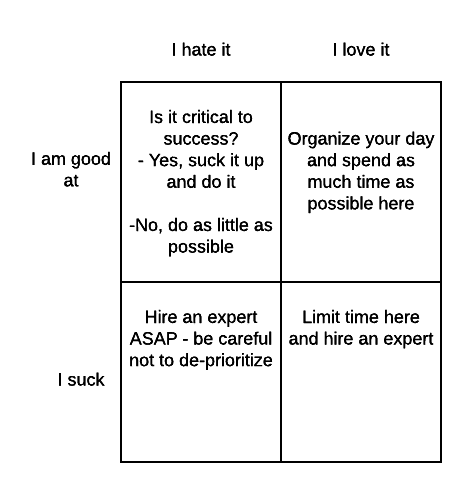 By using this quick four step process – and comparing it to your top business priorities – you can quickly see what areas you should engage in (even temporarily) and what areas you should quickly seek help in. This is, after all, the essence of effective delegation and time management.