Whether you're a would-be business journalist or have spent decades being one. You could be worse-off than to read the short biographies of business journalists who've been through the journey before.
So we've compiled a list from top business journalists. It's a list of influential people at effectively having soft-power and being pro-active, particularly in the digital sphere.
Here's what some of them said about this list:
https://twitter.com/jetpack/status/1040638389895274496

Exciting. Though I'm still most proud of being the top ranked of these journalists to routinely use "Douchebag" in article headlines. https://t.co/r05UsJpUtP

— Joe Patrice (@JosephPatrice) February 14, 2017
Today I was just glad I got my kids out the door in one piece, but then this pretty cool thing came my way: https://t.co/V4HsFGqMb0

— Emma Johnson (@JohnsonEmma) February 14, 2017
Well thank you @DerinCag - that's lovelier than my #valentines gift from my husband! @Richtopia https://t.co/vQhzvMYF9X

— Jane Hamilton (@JJhamilton) February 14, 2017
Thanks guys, still a long ladder to climb, but I'm on it !

— Valentin Schmid (@vxschmid) February 14, 2017
118!? That's just not good enough! Note to self - must try harder - must try harder 😂 https://t.co/bOGh4d16Zm

— Aaron Heslehurst (@bbcaaron) September 14, 2018
Are you listed? Grab your badge!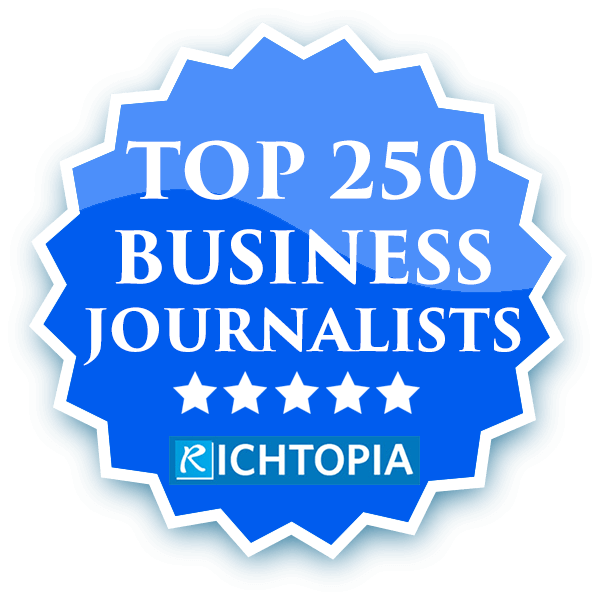 Follow these business journalists to keep up with trends. You will also learn what resources they use to stay in the know.


Here's some more comments:
#24 out of the Top 250 Most Powerful Business Journalists this year @Richtopia @DerinCag 🙏 https://t.co/BCRRIR7FRe

— Brian D. Evans (@BrianDEvans) September 14, 2018
Thank you very much. Some very brilliant names on that list. Delighted to be in their company

— Adam Parsons (@adamparsons) September 14, 2018
Keeping some pretty impressive company here 😮 https://t.co/ADBRIZSuD8

— Danni Hewson (@dannihewson) September 14, 2018
I was going about my business this evening, making dinner for family, then I read this good news on my timeline ☺️

Thank you @DerinCag @Richtopia I'm elated 👏🏽 https://t.co/4lxKjCoqnU

— Joy Doreen BIIRA (@JoyDoreenBiira) September 14, 2018
September 14, 2018
This list of the most influential business journalists is the biggest pile of garbage I've ever seen. Don't even look past who they have in #1 to see how terrible it is. https://t.co/tHep0gJPHf

— Joe Weisenthal (@TheStalwart) September 20, 2018
This makes my week. Just found out I'm #29 on Top 250 Most Influential Business Journalists list, thx @Richtopia! https://t.co/yrYYMEF5Jv

— Liz Claman (@LizClaman) September 15, 2018
Why thanks @Richtopia ! Credit to great editors at @Forbes @ForbesAsia who keep me on my toes #richtopia https://t.co/pO0e6pe9SN

— Pamela Ambler (@PamblerCNA) September 15, 2018
funny thing about being on this list w @hblodget: back around 17 years ago when i was a senior writer at the @WSJ i was covering him as a stock market analyst and making his life miserable. that said, i admire what he has done in his post wall street life https://t.co/aKXn4fxjPb

— Charles Gasparino (@CGasparino) September 15, 2018
It's the willingness to wake up at 2am obviously https://t.co/zcHWnPT3zb

— Cheryl Casone (@cherylcasone) September 16, 2018
In the same year that I've literally had zero sleep with a new baby, I also managed to get onto the @richtopia list at 98! Thanks so much🌟 @DerinCag https://t.co/M4qsjBbpHU

— Eleni Giokos (@EleniGiokos) September 17, 2018
Congratulations to one of our leading journalists. An accolade which reassures those who support our work by buying our papers and subscribing to our journalism that it is world class. https://t.co/5JRRdvEamy

— The Yorkshire Post (@yorkshirepost) September 17, 2018
Business Journalists Top 250 -- I am honored to be included in @Richtopia's list, alongside @jaltucher and other greats, with many thanks to @DerinCag! https://t.co/msp0RdDCOq

— Dorie Clark (@dorieclark) September 18, 2018
We use Kred scores to rank influencers. Kred takes into account social media activity and engagement across many social networks including Twitter, Facebook, Youtube, LinkedIn and Instagram.
If you enjoyed this post on the 100 Most Powerful Business Journalists, share please.