Top 3 

Alibaba vs. Tencent

 Lessons You Could Benefit From Today – 
The two Chinese tech giants are reshaping the game, with deep pockets and access to funds on a platter of Gold. The two Chinese tech giants are proving to be the two deadliest strikers in the tech world. Their market capitalizations and share prices total nearly a trillion USD.
Both companies are like two prolific strikers playing in different teams both with the aim of outscoring from one another to take home the trophy of the best scorer. While Alibaba is notable for dominating the e-commerce sphere, Tencent is dominating the games tech world and social media platforms.
However, the two companies are also competing fiercely and trying to outbid one another for investment opportunities around the world. Recent findings reveal that from 2012 to date, Tencent has had 25 private placements and acquisitions while Alibaba has 28. Besides the billions of acquisitions, the two companies are also undergoing multiple takeovers of start-ups, making it a case of big fish swallowing the small fish. From 2013, Tencent has splashed about USD $780 million to acquire a bunch of start-ups while over the same period, Alibaba has acquired around 50 start-ups in excess of  USD $1.72 billion.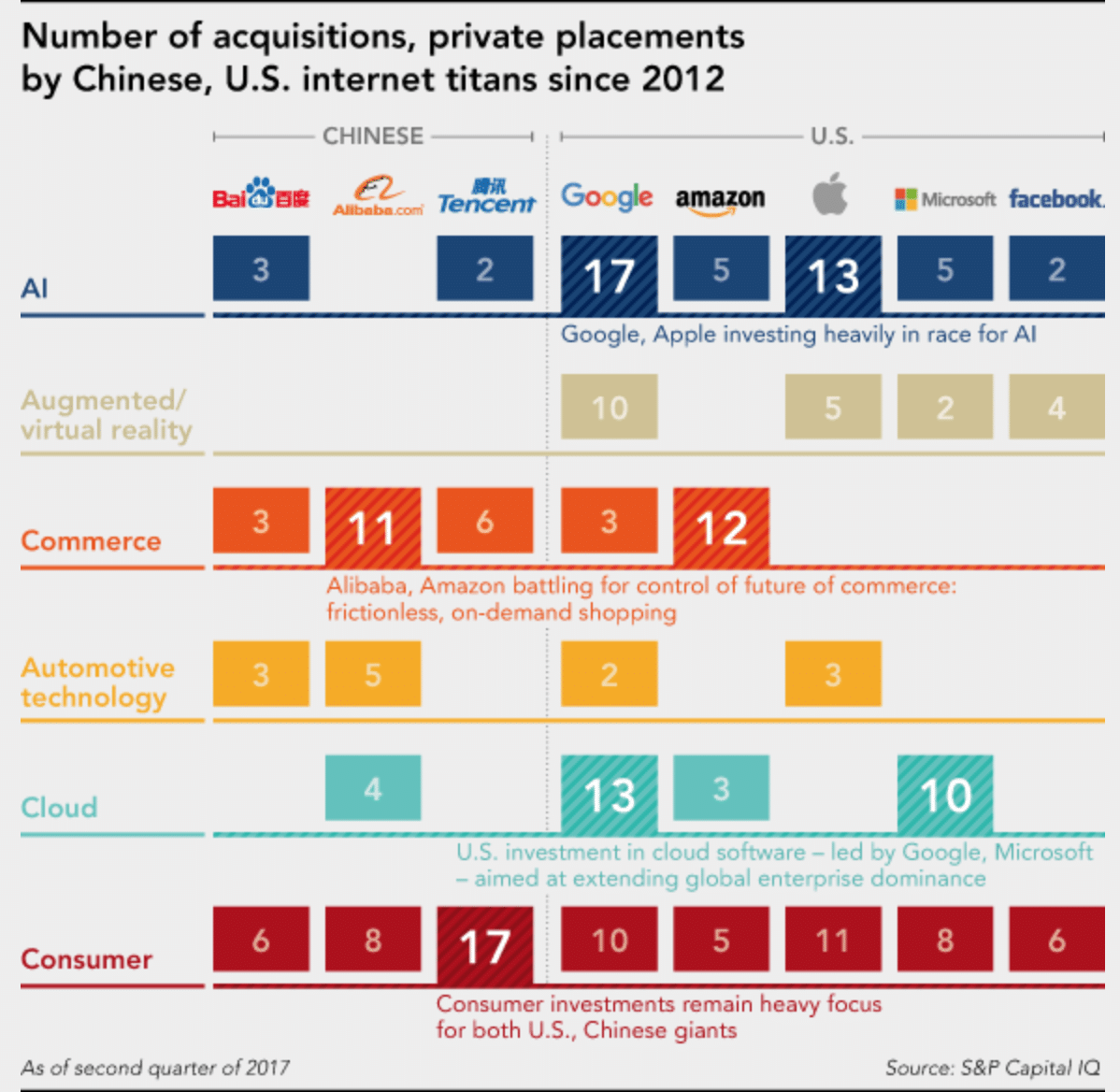 Are these two giant companies hurting and harming start-ups and small businesses with their monopolistic approach?
It is a bit tricky to actually paint the true picture, however, there are lessons one could learn as an entrepreneur or business owner from these two-tech giants business models as stated below.
1. Provide Multiple Services:
The business model being adapted to capture multiple users is offering multiple services, aggregating services and keeping them within a centralized ecosystem. Tencent Holdings' WeChat messenger is an equivalent of SMS Messaging+Skype+Gaming+Market Place+Instagram+Facebook+Twitter+Mobile payment solutions which has led to added revenues and users with over 800m active users monthly. In addition, the Tencent Holdings boasts additional services and apps such as QQ music (a music app equivalent to Apple's iTunes), QQ mail (Yahoo mail equivalent) and QQ a social media platform equivalent to Facebook.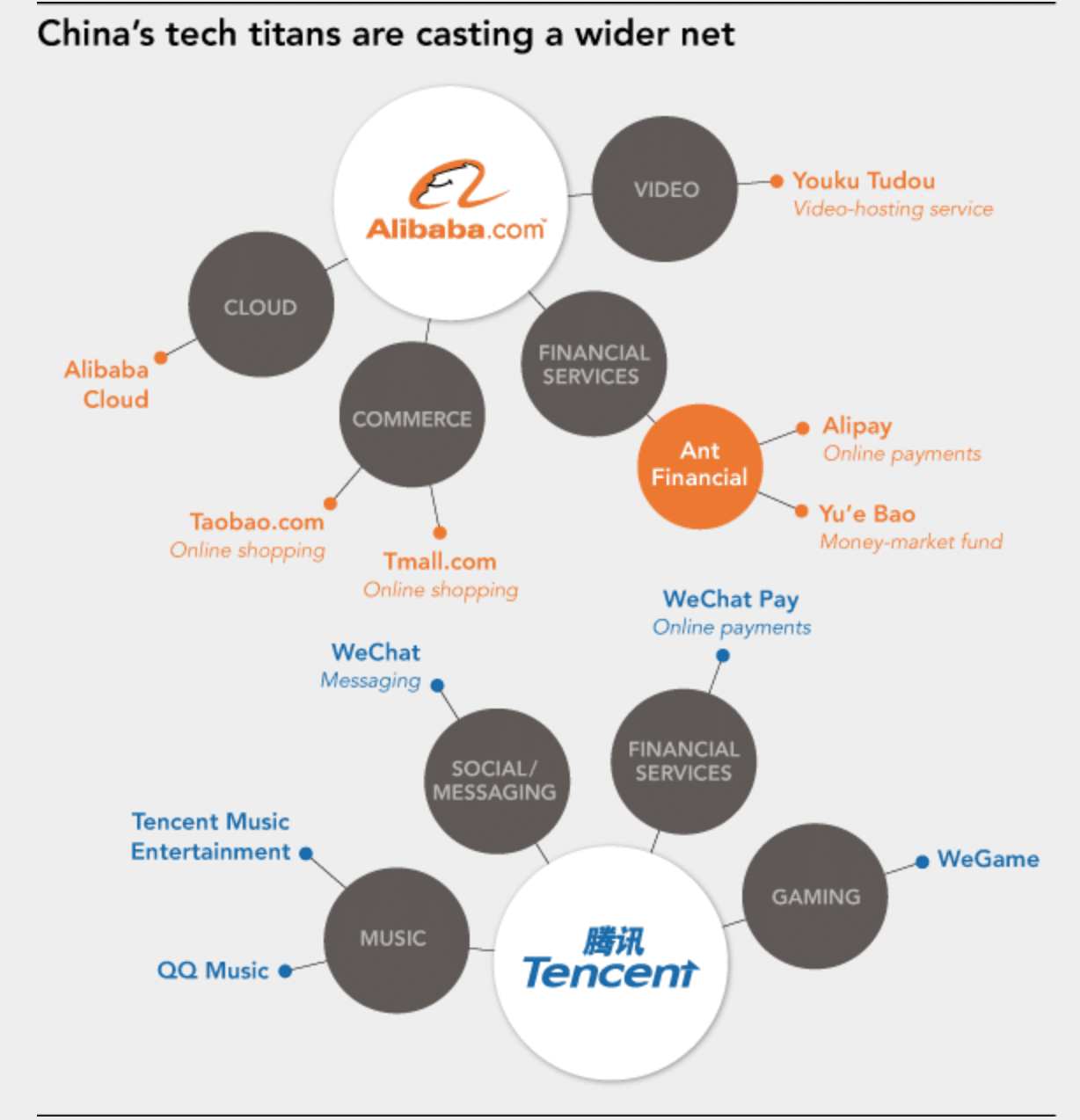 Alibaba also applies this model to its operations, its success lies in the multiple services it's providing to consumers and clients across all regions including B2B (business to business), C2C (customers to customers e-commerce) and B2C (business to consumer services). Suppliers and manufacturers can connect with one another via Alibaba.com and strike a deal. Taobao and Tmall are both B2C e-commerce platforms. Alibaba also has interests is several online platform such as Youku and Toudou to name two.
There are synergies across all of the multiple services provided by both giants and as a result able to coordinate and control a large ecosystem.
In fact, both Alibaba group and Tencent holdings are dominating and stretching their interests into AI, Fintech, Movies, Logistics, Warehousing and Food Delivery to name a few industries.
For entrepreneurs and big companies, you must set up your business model to have a series of revenue-generating services, a main product or service and other supporting products. With this, you not only have other sources generating revenue, you are also able to accumulate capabilities, products expertise, efficiency and consumer optimizing customer's experience.
2. Turn Special Holidays Into Sales: 
Chinese pay attention to special holidays, to every holiday or special day. Tencent Holdings WeChat has special features called WeChat red packets where users could send either a random or fixed amount of money to someone. WeChat Red Packets originated from their own management team trying to give one another red packets after their Chinese new year as it is a broad part of the Cantonese tradition. What started as a solution for its own expanding team problem led to a widely used form of gifts during Chinese holidays and special days like birthdays and weddings. In the Chinese new year holiday of 2015, 1 billion red packets were sent.
11.11 also known as Chinese singles' day or Guanggun Jie (Mainland Pinyin) is a day when young Chinese people in the mainland celebrate each other as being single. The e-commerce giants, particularly Alibaba use this special day to rake in billions in sales and turn it into the world's largest online day in the world (as shown in the sales breakdown below).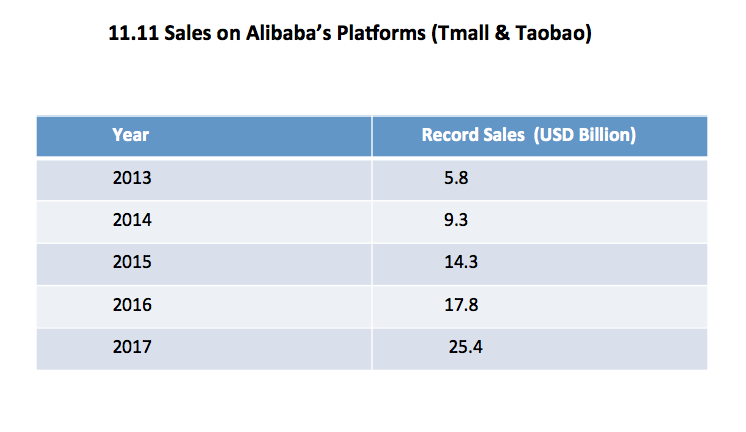 Alibaba has also used this special holiday to rake in revenues from other multiple services offered to its clients. One of its logistics affiliates, Cainiao processed around 700 million record-breaking deliveries, its mobile solution Alipay processed a total of 1.48 billion transactions in 11.11, 2017 (a record of 256,000 payment transactions per second). As aspiring entrepreneurs or big business owners, you must be able to position your products and services to take advantage of special holidays and days to offer special products, solutions, discounts, pricing models and optimized customer-friendly experiences.
3. Using Big Data As a Tool:
With millions of active users monthly, the two giants hold an incredible amount of big data on their users and customers, and they have been able to utilize this data to optimize their customer experience and understand their consumer' behaviors.
According to Jack Ma, the founder of Alibaba, "We think data is going to be so important to human life in the future," he says. "Tomorrow [with the Internet of things], everything will be connected." Jack Ma further added, "The world is going to be data, I think this is just the beginning of the data period."
Tencent has been able to use data to analyze how users on its WeChat platform engage daily, the features its users spend the most time on and at what particular time, the tasks its users use WeChat to undertake at a specific period of time in a day (as shown in the image below).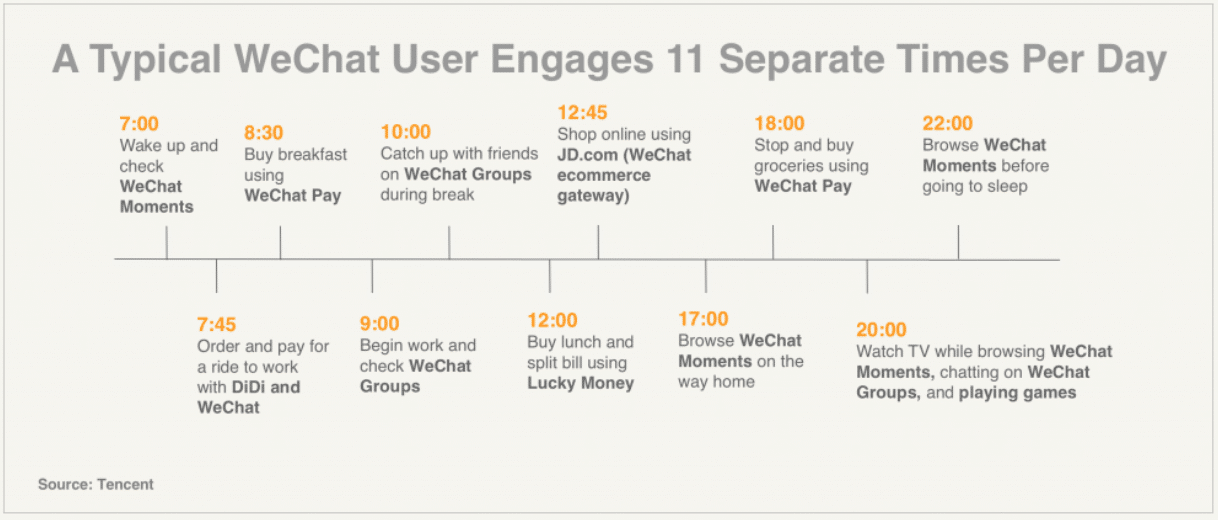 Data is the weapon of the 21st Century and only those who can use it well will flourish exceptionally in terms of their careers and businesses. You must be able to set up your business to understand and be able to use data as a tool for growth strategy, interesting decisions must be taken based on facts, data analytics, and not based on opinions or feelings.